Toronto's very own castle is a joy to tour and gives visitors a look at the opulence of early Toronto.
History of the Castle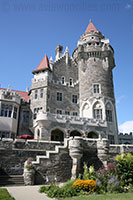 Casa Loma
Sir Henry Pellatt was a visionary. Founder of the Toronto Electric Light Company in 1883 and chairman of twenty-one companies by the turn of the twentieth century, Pellatt built the first hydro-generating plant at Niagara Falls. By 1911, he had amassed about $17 million.
He soon hired E.J. Lennox to build his dream house; a house on the hill, or "Casa Loma". It took three years and $3.5 million to build the home, which was bigger than any home in North America at the time of its completion. Pellatt gathered artwork from around the world to decorate Casa Loma. Large rooms accommodated the Pellatt's busy social calendar and grand parties.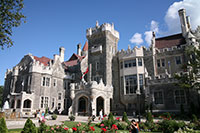 Unfortunately, the Pellatts made some bad financial decisions, sunk deeply into debt and eventually had to declare bankruptcy. The house was abandoned in 1924 and the Pellatts moved to their country home. After the Pellatts left, Casa Loma became a popular night spot and, for several years after that, sat vacant. In 1937, the city purchased the property. The Toronto Kiwanis Club volunteered to operate it and continues to do so today.
The Castle's Design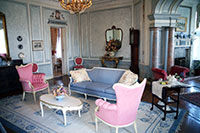 Casa Loma Interior
Sitting on five acres, the architecture of Casa Loma is indicative of the opulence of the Edwardian era and is reminiscent of the castles of old.
Walk in through the main entrance, and you'll find the Grand Hall, with its magnificent 60-foot (18 m.) ceilings and sculpted figures adorning the pillars. The floor of the beautiful Conservatory, also on the first floor, is made of Italian marble and the walls of Ontario marble. The library boasts a lovely herringbone patterned oak floor, and the Pellatt coat-of-arms is emblazoned on the ceiling.
On the second floor, visitors can view a number of bedrooms, including Sir Henry's, with its walnut and mahogany walls. Be sure to see his bathroom, with its state-of-the-art shower featuring six taps that controlled three levels of pipes for a full-body shower!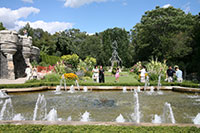 The Garden
Head to the third floor and you can climb one of two towers: the Norman Tower, an open air area that provides stunning views of Toronto; and the Scottish Tower, the highest point in the castle, which is enclosed. Underneath the house, visitors can traverse the 800 feet / 240 meters long secret tunnel, running 18 feet underground and leading to the stables, which were constructed from mahogany and feature Spanish tile floors.
The gardens are lovely to explore and include perennials in a variety of colors, as well as pretty fountains and sculptures.