Called "ROM" by the locals, the wonderful Royal Ontario Museum is the largest in Canada, with a permanent collection of more than six million objects.
About ROM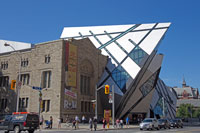 Royal Ontario Museum
Recently modernized and expanded, the original Royal Ontario Museum was established by an Act of the Ontario Legislature in 1912. It opened to the public two years later.
Collections and Exhibits
The Royal Ontario Museum's vast collection of world cultures and natural history make the ROM one of the largest museums of its kind in North America. The museum owns over six million objects, many of which are on display on a regular basis.
Natural History Department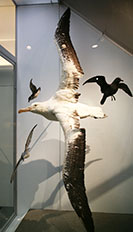 Albatross
The museum's Department of Natural History draws objects from twelve collection and research areas: Botany, Entomology, Herpetology, Ichthyology, Invertebrate Zoology, Mammalogy, Mycology, Ornithology, Invertebrate Paleontology, Vertebrate Paleontology, Geology, and Mineralogy. Current Natural History galleries include displays on bats, birds, reptiles, and other animal communities.
World Cultures Department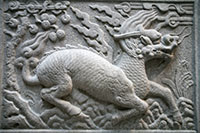 Chinese bas-relief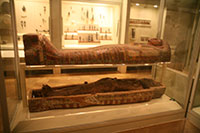 Egyptian Mummy
The World Cultures Department has collected artifacts and other items from around the globe, including Europe, the Far East, Egypt, Ancient Greece and Rome, and the indigenous peoples of Canada. World Culture galleries treat guests to views of Chinese Temple Art and Sculpture, historic textiles and costumes, West Asian and Europe arts and crafts, and displays featuring items from the First Peoples of Canada.
Highlights
Some of the Museum's highlights include the richly decorated Egyptian sarcophagus of the Djedmaatesankh mummy which dates back to around 850 BC, a model of the Acropolis in Athens and skeletons of Allosaur Dinosaurs. And a Tomb dating back to the Ming dynasty is just one of the museum's many Chinese treasures.
The Crystal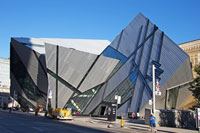 The Crystal, Rom's Modern Annex
A massive expansion of the ROM, completed in 2007, consists of the renovation of 75% of the existing museum as well as the addition of about 80,000 square feet of public space thanks to a new annex known as the Michael A. Lee-Chin Crystal.
Named after the lead donor, the magnificent glass- and aluminum clad annex was designed by Daniel Libeskind.
Three eateries, including one fine-dining restaurant, will be onsite, and a new, expanded ROM museum store is sure to impress visitors.