Dubbed "Canada's Wonder of the World", the CN (Canadian National) Tower has long been a source of pride for Canadians in and around Toronto and has been a favorite tourist attraction for those visiting this enticing Canadian city.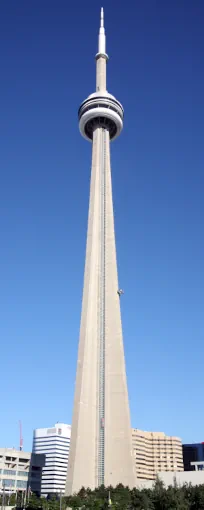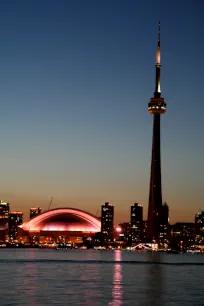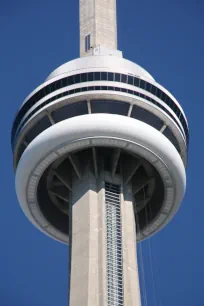 Tower Specifics
At 553 meter (1,815 feet) in height, the CN Tower was technically the world's tallest building (if you include communications towers and not just habitable space) from its completion in 1976 until 2009.
The Toronto Tourist Board estimates that approximately two million visitors annually head to the tower, which was built between 1973 and 1976 by Canadian National in hopes of demonstrating "the strength of Canadian industry by building a tower taller than any other in the world"
However, the CN Tower was actually built for more practical reasons as well. A Canadian construction boom in the 1960s transformed the downtown area into a region of skyscrapers, causing a major telecommunications problem throughout the city of Toronto. With its microwave receptors located at 338 meters (1,109 ft.) and 553 meters (1,815 ft.), the CN Tower quickly solved the communication problems for the city, which had become a major concern for both businesses and residents.
At night, the tower is illuminated with a programmable LED lighting. The colors change throughout the year to celebrate or honor specific occasions.
Visiting the Tower
If you're not afraid of heights, visiting the CN Tower is one of the greatest experiences you'll enjoy in Toronto. Soar up to 342 meters (1,122 feet) and you'll arrive at the outdoor observation deck where, on a clear day, you'll be treated to amazing views of the city. There's also an "elephant-proof" glass floor located indoors, where you can look straight down to the street level. It opened on June 26, 1994, and is the first such floor in the world. No one's ever fallen through it and never will, but taking that first step onto the glass floor is, nonetheless, a little scary!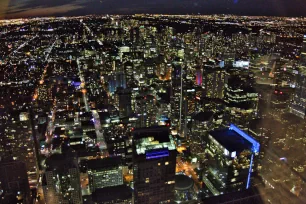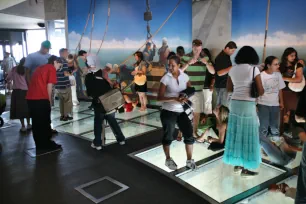 Ascend another fourteen feet, and you'll hit the Indoor Observation Deck (great for cold weather days) as well as the Horizons Café, where you can grab a light meal with a great view.
Hop on the elevator again, and you'll reach 360, the CN Tower's restaurant, which rotates once every 72 minutes, providing visitors with a complete and unobstructed view of the city.
If that's not high enough for you, continue on to the Sky Pod, which sits at 447 meters (1,465 feet)! Until 2008, this was the world's highest public observation deck.
For the real thrill-seekers, there's the Edgewalk, a walk on top of the main pod, at a height of 356 meters, during which you can even lean over the edge of the pod.