For more than a century, locals and visitors have enjoyed the sights and smells of Toronto's wonderful St. Lawrence Market.
The Early Days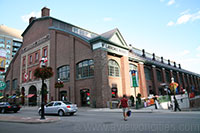 South Market
More than one hundred years before the St. Lawrence Market was built and opened to the public, the area where it sits was designated as the city marketplace; a place where residents could come together to purchase local goods and enjoy socializing with each other. As early as 1803, a small wooden structure was located at the "market block", making it the first permanent market in Toronto.
North Market
The original primitive 1803 structure was replaced in 1831 by a brick structure. This building was destroyed by the great fire of 1849, but shortly thereafter, plans were drawn up for a large complex, which included St. Lawrence Hall, where the public would gather for meetings, lectures, and concerts.
The North Market building contained numerous butcher stalls. That building lasted until the turn-of-the-twentieth-century, when it was demolished and replaced with a more modern structure. This market hall survived until 1968 when it was demolished and replaced by the current bland building.
South Market – Toronto's original city hall
Inside the market hall
Eleven years after the incorporation of the city of Toronto from the town of York, the city council decided to build a city hall that would be large enough to hold not only the city offices but also a police station and market. The large three-story brick building in Georgian style would serve as Toronto's city hall until 1899, when the city moved to a new monumental city hall.
From that point on, the building only housed a market, a function it still holds today. In the 1970s, the south market building almost suffered the same fate as the north building when the city talked about demolishing the market. Fortunately, concerned Torontonians stepped in and saved the market. Renovations included the availability of additional retail space and resulted in the opening of The Market Gallery, housing the city's Civic Art Gallery and Depository.
Today's Markets
The modern day St. Lawrence Market consists of three buildings and four purposes. The South Market has three floors. The bottom two floors consist of space for about fifty different specialty vendors, known mostly for their fresh food products. Non-food items are available as well. The third floor of the south building houses the Market Gallery, the official exhibition center for the City of Toronto Archives.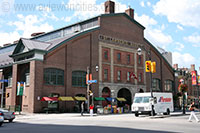 The North Market is particularly busy on weekends. Saturday's Farmer's Market is bustling with both locals and visitors who've come to enjoy the freshest in food items. On Sundays, an antiques market takes the place of the farmer's market and offers deals from more than eighty vendors, who begin arriving at the crack of dawn.
The 150-year-old St. Lawrence Hall is also home to retail establishments, city offices, and extra space available for rent.