The Church of the Holy Trinity is one of Toronto's oldest and most picturesque buildings. The Neo-Gothic church lies tucked away behind modern high-rises and borders the small but beautiful Trinity Square.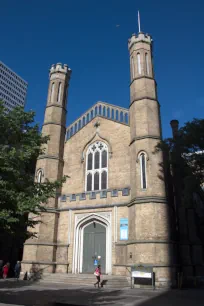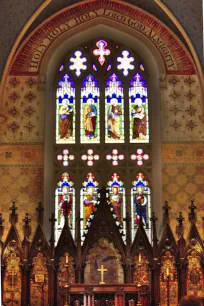 History
The Anglican Church of the Holy Trinity was built in 1847. Its construction was made possible thanks to a donation by a certain Mary Lambert Swale, wife of a priest in Yorkshire. She wanted the church to be built in the Gothic style, hence the appointment of Henry Bowyer Lane as the lead architect. Lane was a student of Sir Charles Barry, famous for his Neo-Gothic Houses of Parliament in London. The church was built on a plot donated in 1845 by John Simcoe Macaulay in a working-class neighborhood just north of Toronto.
In the 1960s the Eaton's Department Store launched plans for a large shopping complex that would result in the demolition of the Old City Hall and the Church of the Holy Trinity. Local uproar against those plans eventually forced Eaton's to redesign the complex so that both the city hall and church were preserved. The Eaton shopping centre eventually opened in 1977.
The Church
The church has a floor plan in the shape of a Latin cross. The twin octagonal towers that were once used as a navigational beacon (they were even visible from Lake Ontario), are now dwarfed by the surrounding office buildings.
The church has an intimate interior consisting of a single nave with a transept. Most noteworthy are the stained-glass windows. The majority of these were installed in 1858. The windows in the south wall are modern; they were installed in 1980 to replace the windows that were destroyed in 1977 by a fire. The organ in the north transept is also modern and dates from 1990.
Trinity Square
The Church of the Holy Trinity is situated on Trinity Square, a public square that can be accessed from Eaton Centre and, via a tree-lined walkway, from Bay Street. The square is often used as a resting place for shoppers and nearby office workers on their lunch break.
The square features a small waterfall, but its main attraction is the Toronto Public Labyrinth, a circular labyrinth that is traced on the pavement.