Recognized as one of the most significant hubs in Canada's transportation network, Toronto's Union Station was also the largest and most opulent train station ever built in Canada.
Union Station History
Though Union Station was officially opened in 1927, its planning actually goes back much further.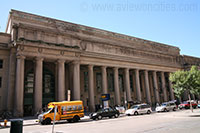 Union Station
At the end of the nineteenth century, the city of Toronto was served by a number of railways, including the Grand Trunk and the Canadian Pacific. In 1904, when a devastating fire wiped out a large portion of the city's industrial and warehouse district, the two rail companies saw the now-vacant land as an opportunity to build a larger and grander "union" station that would serve more than one individual railroad, as was commonplace during the early twentieth century.
Using land from the city, construction of Union Station began in 1914 but was delayed because of material shortages caused by World War I. In 1919, the Grand Trunk Railway failed and was forced to declare bankruptcy, further delaying the construction.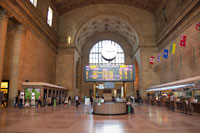 Interior
The elegant station was finally completed in 1921, but historians say arguments between the Harbor Commission, the city, and the railways over grade separations delayed the official opening yet another six years. In 1927, Edward, Prince of Wales, cut the ribbon that declared the station open for business, and purchased the first ever ticket sold there – a one-way trip to Alberta at the cost of about $70 Canadian dollars.
About the Architecture
Union Station was the result of collaboration of a number of different architects, including the Montreal firm of G.A. Ross and R.H. Macdonald, Hugh Jones of the Canadian Pacific Railroad (CPR), and John M. Lyle of Toronto.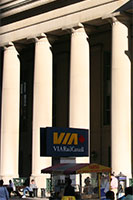 Entrance Colonnade
Choosing to build in the Beaux Arts style that was so popular during the early twentieth century, the men designed an enormous building using only the best materials. The floors are made of Tennessee marble, laid in a herringbone pattern. The inside walls are fashioned of Zumbro stone from Missouri, and the magnificent coffered ceiling of the Grand Hall is covered with Gustavino tiles. The four-story barrel vaulted windows on the east and west sides of the station are magnificent and echo the shape of the ceiling. Look about halfway up the north and south walls and you'll find the names of the cities served by the CPR and the then-new Canadian National Railway (which replaced the Grand Trunk).