The University of Toronto was founded by royal charter in 1827 and was originally known as King's College. Many of its buildings are architecturally notable.
The University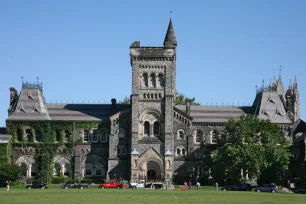 The University of Toronto covers a large part of the center of Toronto. Its sprawling campus spreads from around Queen's Park all the way up to Bloor Street to the north, College Street to the south, Spadina Avenue to the west and Bay Street to the east. The campus has large open spaces, often lined with historic buildings.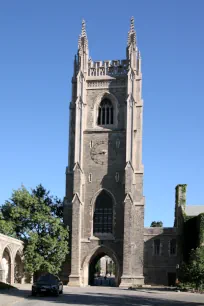 Historic Buildings
Most of the buildings on the campus can best be described as either Romanesque or Gothic Revival though there are also buildings of other styles at the university.
The main building of University College, one of the constituent colleges of the University of Toronto, is one of the first structures most people spy near the front of the campus. This building, erected in 1857 and designed by Frederick William Cumberland, is a mixture of Norman and Romanesque. It was placed on Canada's list of National Historic Sites in 1968.
Gothic-style Soldiers' Tower is the most visible building on the campus, standing some 143 feet (44 meters) tall. It houses a 51-bell carillon that is rung for special occasions around the university. On the stone arches of this building are carved the names of university members that perished in World War I and II.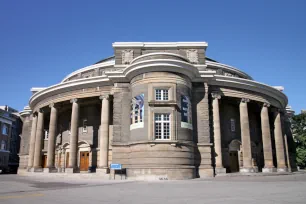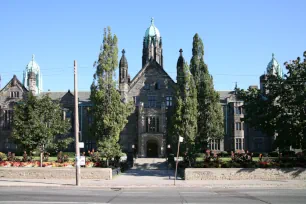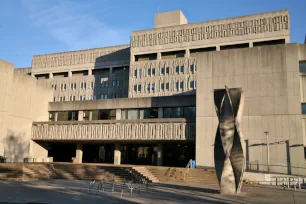 Hart House, which functions as a student center, is a good example of Gothic Revival. Its expansive Great Hall is lined with magnificent stained glass windows. Convocation Hall, built in 1907, is recognized by its domed roof and rotunda with Ionic pillars.
For something a little different, visitors who enjoy Jacobethan Tudor architecture should head to the main building of Trinity College, another constituent college of the University of Toronto. In contrast, the college's chapel is built in Perpendicular Gothic style, designed by Giles Gilbert Scott. It was constructed by Italian stonemasons using marble from Indiana and local limestone.
For typical North American collegiate Gothic design, visit the buildings of Knox College, made of sandstone, many with cloisters surrounding secluded courtyards. In contrast, the buildings of Victoria College are Richardsonian Romanesque in style, crafted from grey limestone and red sandstone.
Modern Buildings
Because the western section of the campus was developed after World War II, most of the buildings in that portion are modernist or internationalist.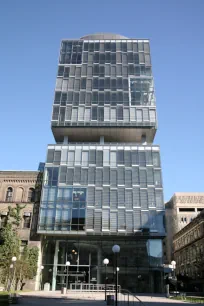 Look for the Robarts Library Complex, which is an excellent example of modern brutalist architecture, usually concrete buildings with repetitive angular geometries. Another brutalist concrete building is the Medical Sciences Building, designed by Peter Goering and built in 1969. The monolithic building contrasts starkly with its historic surroundings.
Recently-constructed buildings on campus at the University of Toronto include the Leslie L. Dan Pharmacy Building, built in 2006 and designed by Norman Foster, a British architect. It is made of glass and steel and is quite contemporary in style. The nearby Terrence Donnely Center, completed around the same time, was designed by architects Alliance and Behnisch Architects. It is set back between two historic buildings and looks like two glass buildings set on top of each other.