Home to the Ontario Legislative building, Queen's Park is a pretty green oasis located in the center of sprawling Toronto. The park is dotted with tens of statues and memorials.
Features of the Park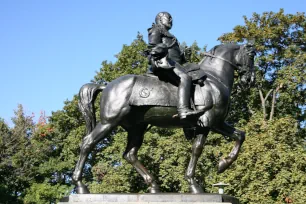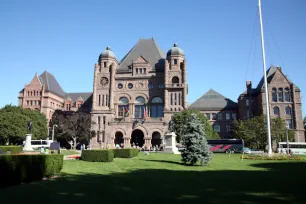 Queen's Park is one of the oldest urban parks in Canada. Established in 1860 and bordered mostly by the buildings of the University of Toronto (formerly Queens College), the park was named in honor of England's Queen Victoria. Edward VII, then the Prince of Wales, was present at the inauguration of the park.
The park is designed in the style of an English landscaped garden, albeit more structured. Trees are abundant and footpaths are in a hub pattern, radiating from the center of the park to the street that circles it. In the center of the northern section of the park is an equestrian statue of Edward VII.
Ontario Legislative Building
In the center of the southern part is the grand Ontario Legislative Building, which, incidentally, people often refer to as "Queen's Park". Built in 1893 in the Romanesque style, guests can enjoy guided tours of this structure, led by knowledgeable guides who are eager to educate visitors as to the history and heritage of the province of Ontario.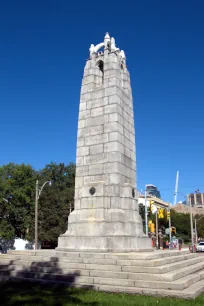 Statues and Landmarks
The park is also full of a number of additional statues and landmarks. Visitors will find an Ontario Veterans' Memorial, the War Memorial of the 48th Highlanders, and the Northwest Rebellion Memorial.
Statues include likenesses of King George V; Sir John A. MacDonald – first Prime Minister of Canada; John Sandfield Macdonald – first Premier of Ontario; John Graves Simcoe – first Lieutenant-Governor of Ontario; George Brown – one of the Fathers of Confederation; Sir Oliver Mowat – third Premier of Ontario; and Sir James Pliny Whitney – sixth Premier of Ontario.