A National Historic Site and the only historic district in the city of Toronto, the Distillery District has long been a place for locals and visitors to enjoy arts, entertainment, good food, and fine shopping.
History of the District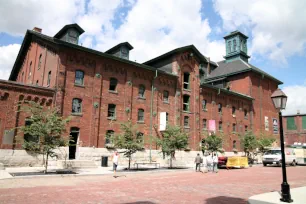 Toronto's Distillery District had its beginnings with the opening of the Gooderham and Worts Distillery in 1832. Founded by two brothers-in-law, this distillery eventually became the largest in the British Empire. Amazingly, this huge plant – covering about 13 acres (52 ha.) – continued producing whiskey and other spirits until its closure in 1990, surviving even through the Prohibition era. The Distillery area remains the largest and best preserved collection of Victorian Industrial architecture in North America.
The Distillery Today
During the 1990s, before the district assumed its current role as an art, culture, and entertainment center for the city of Toronto, it became one of the country's most popular sites at which to film movies. Some of the more well-known films shot here include Cinderella Man, Chicago, X-Men, The Hurricane, and Against the Ropes.
In 2001, a local company purchased the land with the hopes of maintaining its historical integrity while also offering something more to the city's residents and visitors. In 2003, with much fanfare, it was unveiled as a wonderful pedestrian-only village dedicated to the arts.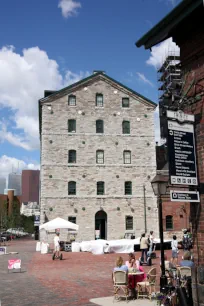 Visitors to the Distillery Historic District are greeted by a plethora of art galleries and artists' studios that feature works by local, national, and international artists. You'll also find a number of excellent performing arts venues in the village, including the Young Centre for Performing Arts and the George Brown Theatre School. Dance troupes and an opera company also make their home here.
If you want to do a little shopping while enjoying the car-free Distillery District, you'll note the presence of several upscale boutiques as well as many other retail establishments, including flower shops, jewelry stores, and a shop that makes custom furnishings.
Restaurants and cafés are plentiful and range from small places to grab a quick bite on-the-go to elegant sit-down restaurants offering top-notch local and international cuisine.
Festivals and special events are commonplace at the Distillery Historic District and seem to happen almost every weekend. You'll want to be sure to check out the weekly Farmer's Market and obtain a schedule of other events occurring during your visit.