The fifth home of Ontario's provincial parliament, the Ontario Legislative Building is an architectural delight for the eyes.
The Building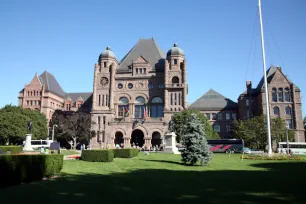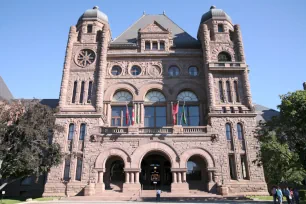 In 1792, the province of Upper Canada was created. In existence until 1841, it was a British Territory that was located approximately where the lower portion of Ontario now sits. In the early days of Upper Canada, the provincial parliament occupied a number of different buildings. The most recent, built in 1893 after the province was renamed, still stands today.
Known as the Ontario Legislative Building (and sometimes the Parliament Building), this impressive structure sits in the centrally located Queen's Park, near the University of Toronto. At the time of its construction, it was the fifth building the parliament would occupy in just a little more than a century.
Built at a cost of $1.4 million, the architect for the project was Richard A. Waite, an Englishman who was – at that time – living in nearby Buffalo, NY. His style is often described as Richardsonian Romanesque, but many Canadians found the structure to be too American, reflecting many of the styles found "south of the border".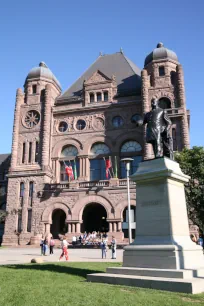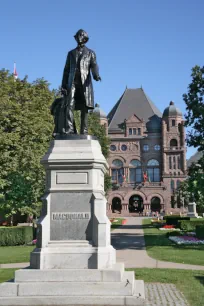 But while the building may have seemed "American" in style, nothing but Canadian materials were used in its construction, including more than ten million bricks made by busy inmates at the province's Central Prison. Pink sandstone was brought in from other parts of the country.
After the Fire
In 1909, a fire destroyed much of the Legislative Building's west wing. That's why – as you climb the grand staircase in the center of the interior – you'll notice that the east and west wings are markedly different.
The east wing is fashioned from rich, dark wood, including wooden columns and railings. On the other hand, the rebuilding of the west wing resulted in a wonderful white Italian marble design. Both have wide-open hallways with stained-glass ceilings to allow for maximum sunlight.
Today, whoever holds the office of lieutenant governor makes his home here and has done so since 1937. Guests are officially received in his quarters, which boast an excellent collection of seventeenth-century antiques.
Statues
The south part of Queen's park – virtually the Legislative building's front yard – is littered with statues of historical figures. Some of the most notable are statues of Queen Victoria, King George V, John A Macdonald (the first prime minister of Canada) and John S Macdonald (the first premier of Ontario).