Adjectives fail when trying to describe the provocative Sharp Centre for design. It has been described by some architecture critics as audacious, adventurous and playful, while others pan it as ludicrous.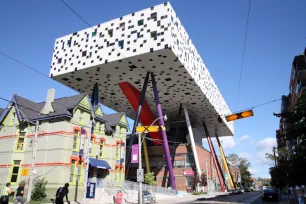 Everyone who has laid an eye on the futuristic creation of the British architect Will Alsop surely must agree that the building is eye-catching. From the ground, it looks more like some giant mutant insect than an actual building.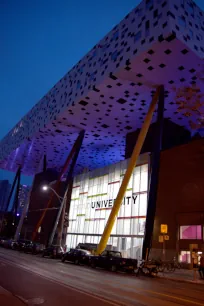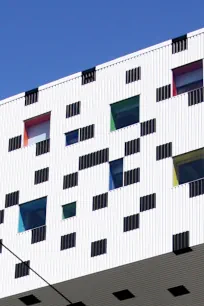 The Architect
Before creating his design for Toronto's Sharp Centre for Design – his first assignment in North America – Alsop had already built a reputation in Europe for his unconventional, daring and often colorful designs, such as the marine-colored Hôtel du Département des Bouches-du-Rhône in Marseille, built in 1993 and the multicolored Peckham Library in London, which was built in 2000.
As early as in 1970, at the age of twenty-three, Alsop entered the competition for the design of the Centre Pompidou in Paris; his submission came up just short, right behind the winning design of Richard Rogers and Renzo Piano. So it's probably no surprise that his creation of the Sharp Centre building has been quoted as 'Canada's version of the Centre Pompidou'.
The Building
And just like the illustrious Centre Pompidou in Paris, the Sharp Centre caused a shockwave in Toronto due to its avant-garde design that clashes with the conventional and historic buildings in the neighborhood.
The Sharp Centre for Design was built in 2004 as an addition to the Ontario College of Art, a contrastingly plain brick building. The elevated design came as a result of neighbors' complaints to initial plans to build the extension of the Ontario College of Art on an adjacent parking lot.
Described by the architect as a 'tabletop', the two-story structure is supported by twelve 25 meter (80 ft.) high colored slanted stilts. The sides of the Sharp Centre, which measures 30 by 8.5 meters, are painted in a seemingly random pattern of black squares on a sparkling white background. A sloping tower connects the modern steel structure with the preexisting building below.