Standing at what was once the site of a Victorian village, the small innovative Yorkville Park is a dramatic yet peaceful tribute to the diversity of the Canadian landscape.
Building the Park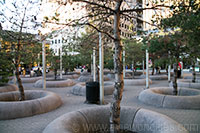 Yorkville Park
The upscale Yorkville Park area of Toronto was always a desirable neighborhood. Nonetheless, in the 1950s, local government chose to demolish a row of beautiful Victorian houses to make way for progress – a.k.a. a subway line. Residents who lived in the neighborhood at that time began to rally for a park to be built over the subway but instead, a parking lot was constructed to provide spaces for commuters.
Not discouraged, residents continued their plea for more than three decades until, finally, in 1991, an international design competition was announced by the City of Toronto Department of Parks and Recreation in hopes of finding the right landscape architect for this project.
The winner was Oleson Worland Architects, in association with Martha Schwartz / Ken Smith / David Meyer Landscape Architects, who presented a creation which turned the parking lot into a park that celebrates the history of the Village of Yorkville and reflects the diversity of the Canadian landscape.
About the Park's Design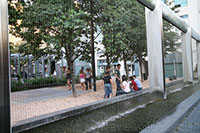 Rain Curtain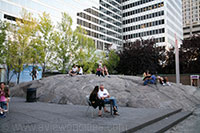 The Rock
Yorkville Park is arranged in a series of gardens where the row houses once stood. Each garden contains a variety of plant communities in tribute to the vast environs of Canada. They range from the upland forest of the north to the riparian marsh found in the coastal areas of the country and everything in between, such as prairie, orchard, and rock outcropping.
What's most intriguing about Yorkville Park are the many unique features and "works of art" found throughout the park. Guests love "The Rock", a 600-ton fragment of Canada's glacial shield, removed piece by piece from the Lake Region, north of Toronto, and reassembled in the park. It sits atop structural beams that span the roof of the subway. Also memorable are the rain/icicle curtain, and the mist-emitting light columns, which create an eerie feeling, especially at night.
The park has won numerous national and international urban design awards and has become a favorite gathering place for those who live and work in the area.