Also known as the TD Centre, the buildings of Toronto's sparkling Dominion Centre have been impressing visitors for decades.
Building the Dominion Centre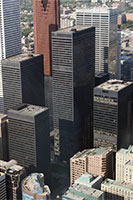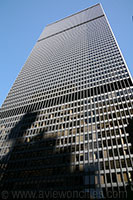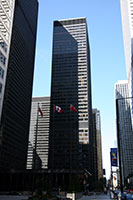 TD Centre
In the twenty or so years between 1955 and 1975, architecture in Toronto reached a low point. City planners were careless about what they tore down to make way for expressways that would accommodate the burgeoning population of the city. Many Toronto natives still miss the architectural beauties that disappeared during that era.
One architectural triumph, however, rose high into the sky in the mid-1960s, giving Torontonians something to cheer about. The Ludwig Mies van der Rohe-designed complex known as the Toronto Dominion Centre immediately received acclaim for its spectacular design and soon became the city's new financial center.
Originally consisting of six buildings – the Ernst & Young Tower, Royal Trust Tower, Canadian Pacific Tower, 95 Wellington, Maritime Life Tower, and the tallest of all the towers, the 56-story TD Bank Tower – the TD Centre is often referred to as the city's "most influential business community".
About the Towers
The 223 meter-tall (731 ft.) Toronto Dominion Bank Tower is the tallest completed building ever designed by Ludwig Mies van der Rohe. It sits in the middle of the complex and is the centerpiece of the TD Centre. The Royal Trust Tower is the next tallest at 46 stories. The remainder of the buildings are between 31 and 39 stories, except for 220 Bay Street, one of the newer buildings, which is only 15 stories tall.
The buildings are known for their stunning black-painted steel frames and bronze-tinted glass curtain walls as well as the special touches applied to the interior, which includes liberal use of marble, granite, travertine, and beautiful oak.
For Visitors
Aside from admiring the beautiful architecture of the TD Centre, visitors will want to head there to do a little shopping. Nearly a hundred stores and restaurants have taken up residence at the Dominion Centre, and for shopping fanatics, this is heaven! A Food Hall also provides guests with a plethora of different choices for breakfast, lunch, or dinner.
You can also visit the Gallery of Inuit Art, a gallery located on the ground floor of 79 Wellington Street West that displays a collection of more than two hundred pieces of art from the Inuit, a group of Aboriginal Canadians.