One of Toronto's most distinct neighborhoods, Chinatown has attracted immigrants from many Asian countries. It is among the largest Chinatowns in North America.
About Chinatown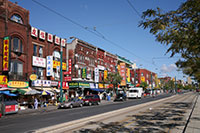 Chinatown
Toronto's Chinatown had its beginnings with just one man – Sam Ching – who came to the city and opened a hand-wash laundry. Mr. Ching was the impetus for hundreds more Chinese immigrants who began arriving in Toronto around the turn-of-the-twentieth-century.
Population records show that Chinatown was quite well established by 1935, with several hundred Chinese living in the area near the current City Hall. One old document shows that, around that time, there were more than three hundred Chinese hand laundries in a four-block radius!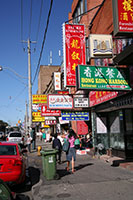 Within the next few decades, including the years during World War II, Chinatown continued to expand. Some ethnic Chinese moved to Toronto from other Chinatowns on the U.S. west coast, such as San Francisco, due to poor treatment there. Others came directly to Toronto, mostly from China's northern provinces, like Guangdong. Others arrived from Hong Kong, Southeast Asia, the West Indies, and Africa.
When the new City Hall was built in the 1960s, the Chinese population was displaced and most moved to the area around the intersection of Spadina and West Dundas Streets, which is now referred to as "the original Chinatown". That's because several other distinctly Chinese neighborhoods have sprung up in and around the city over the past decades.
Things to Do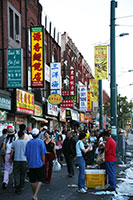 Some have likened "old" Chinatown to Hong Kong. It's a busy, crowded place full of wonderful Chinese experiences. Visitors and locals head here for the fine restaurants, which serve everything from dim sum to amazing multi-course dinners that compete with those of the finest restaurants in the city. You'll also enjoy the amazing array of shops peddling silk kimonos, Chinese herbs, porcelain, jewelry, and even kitschy souvenirs.
If you're lucky, you'll land in Chinatown during one of their many festivals, including – of course – Chinese New Year. Weekends can be wild here also, with huge crowds of visitors and lots of outdoor markets to browse.