Once the head office of the Goodenham and Worts Distillery, Toronto's Flatiron building is one of the most photographed in the city. The rear facade is decorated with a trompe l'oeil painting.
Building the Flatiron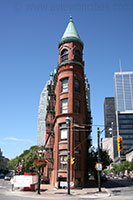 The Flatiron
In 1891, the Goodenham family wanted local residents to recognize their success and the success of their distillery business, so they commissioned the family architect, David Roberts, to build them a grander office space. At a cost of $18,000, an unusual Gothic Romanesque structure was built at the intersection of Front, Wellington, and Church Streets on a triangular piece of land.
The five-story red brick building was one of the grandest of its time, with twelve-foot high ceilings, brass fittings, and the very first manually-operated Otis elevator in the city of Toronto. A walk-in vault was constructed to hold the Goodenham riches, and a tunnel was dug so that those in charge could travel from the building to the bank across the street (which Goodenham purchased) without having to walk outside with large bags of cash.
What many do not realize is that Toronto's Flatiron actually preceded New York's famous Flatiron Building by more than ten years, though the one in NYC gets much more publicity than Toronto's version.
Today's Flatiron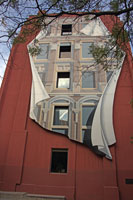 Trompe l'oeil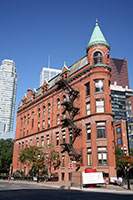 Side view
In 1957, the Goodenham family sold the building to Velco Investments, who eventually sold it to David and Thomas Walsh for $600,000 in 1973. The Walshes invested many dollars in the renovation of the Flatiron and saved it from demolition when everything around it was being leveled. It received its National Historic Site designation in 1975.
Michael and Anne Tippin bought the Flatiron in 1998 and also invested much money into further restoration of this grand structure.
Currently, the Flatiron ranks among the most expensive office space in the city and is home to prestigious businesses. Visitors will also find a small pub in the basement, which is quite popular with the after-work crowd.
Trompe l'Oeil
Many visit the Flatiron to admire the interesting mural painted on the back of the building. The mural is a mirror image of the Perkins Building, which is located directly across the street. It was created by the renowned Canadian artist Derek Besant and utilizes the trompe l'oeil effect (literally, "trick the eye"), which creates an optical illusion that convinces the viewer that the objects depicted really exist.