The Flatiron Building is one of the most famous historic landmarks in New York. The iconic twenty-one-story building, best known for its triangular shape, was one of the early spectacular high-rises that have come to define Manhattan.

The Flatiron Building was constructed between 1901 and 1903 at the intersection of Broadway and Fifth Avenue, at the time one of the most prominent locations in New York City. It is situated near Madison Square at the end of the Ladies' Mile, one of Manhattan's most important shopping districts at the turn of the nineteenth century.
Not the tallest
The Flatiron Building was designed by Chicago's Daniel Burnham as a steel-frame skyscraper clad in white terra-cotta. At 21 stories and 307 ft (93 meters), it was one of the city's tallest buildings. It was not – as is often incorrectly thought – the tallest building in the world or even the tallest building in New York (these titles belonged to the Park Row Building, built in 1899), but its singular shape and prominent location soon made it one of New York City's most famous landmarks.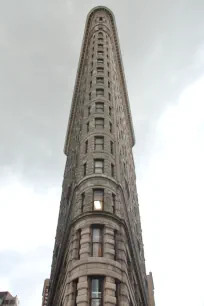 The building probably featured on more postcards than any other building of its time. The whole area, the Flatiron district, was even named after the building.
Originally, the Flatiron Building featured an observation deck on the top floor, but taller buildings have taken over this function. It is still, however, a popular tourist attraction, and one of the most photographed landmarks in New York.
A "Flatiron"
Built as the headquarters of the Fuller Construction company, the skyscraper was meant to be named Fuller Building. But locals soon dubbed it 'Flatiron' after its unusual shape, caused by the triangular plot. Even though the plot is a right triangle while a clothing iron is an isosceles triangle, the name stuck and the building was officially renamed Flatiron Building. In 1929 the Fuller company built another, much taller Fuller Building at 57th Street and Madison Avenue.
Burnham's Folly
The Flatiron Building was given another nickname: "Burnham's Folly". Many people at the time thought Daniel Burnham's triangular design combined with the building's exceptional height would not withstand strong winds. Some were even speculating how far the building's debris would spread after falling over. But Burnham was an experienced architect who knew what he was doing, and his skyscraper withstood the test of time.
Wind Effect
The wind did however have an effect on the area around the building. The so-called downdraught effect causes the wind to increase in speed at the foot of the Flatiron. At the time, the building became known as the site where gusts of wind often lifted women's skirts, exposing their ankles, much to the delight of young men.