New York City's magnificent Park Row Building was built around the turn of the twentieth century and was – for nine years – the tallest building in the world.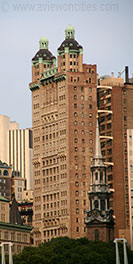 Park Row Building
The skyscraper is one of several surviving late nineteenth-century office towers situated on the street that became known as Newspaper Row, the busy center of newspaper publishing in New York City from the 1840s to the 1920s.
The World's Tallest
It's hard to believe that the 391-foot (119 m.), 30-story building long known as the Park Row Building once held the honor that now belongs to gigantic buildings like the Willis Tower in Chicago or the Empire State Building in New York. But in 1899, when the building was completed, it was indeed the tallest anywhere.
The Beaux-Arts Park Row Building was originally built as a speculative office building, commissioned by investor William Mills Ivins, and contained 950 offices and accommodated about 4,000 workers. The owners combined seven different lots in order to achieve the size they desired for this building.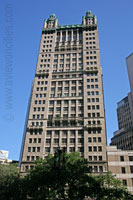 Front facade
Architecture
The facade of the building is divided horizontally and fashioned from limestone and brick. Balconies and ornamental ledges grace several floors. On the top sits two domes that were originally intended as observatories and served as such for several decades. On top of each of those domes sits another copper dome, these being the building's most distinguishing features. Four life-sized sculpted figures set on overscaled brackets project from the fourth floor in the front of the building.
The Park Row Building remains in use as a commercial office building and is still often photographed and considered one of the most distinct buildings in the New York City skyline.