The Daily News Building was constructed when the New York newspaper had the highest circulation of any newspaper in the world.
The Construction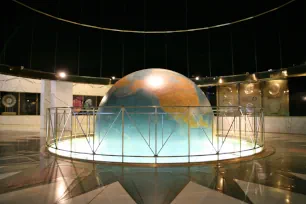 Located on 42nd Street, the Daily News Building was constructed in 1929-1930 for the newspaper of the same name, owned by Joseph Patterson. Journalist/publisher Patterson chose architect Raymond Hood for the job. Hood had designed the magnificent Chicago Tribune building, which was owned by Patterson's grandfather, Joseph Medill.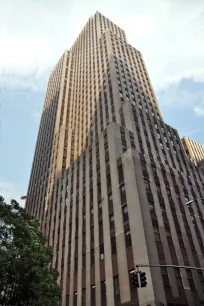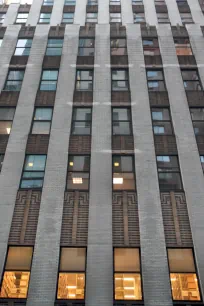 The 37-story Art Deco building, which stands 476 feet tall (145 m), is best recognized by its vertical strips of windows separated with red and black brick patterned spandrels (the portion of wall between the top of one window and the window sill above it). White brickwork forms the separating vertical piers. While most buildings of the time were being constructed with limestone, Hood decided it was too expensive, so favored brick instead.
The tops of the window stripes are decorated with ornamental spandrels extending all the way to the top of the building. At that point, they're sloped inward and split by a narrow pier. The top of the building is flat; unusual for buildings of its time. However, the level top served as an inspiration for many skyscrapers that followed. The main entrance is particularly indicative of the Art Deco style, with an ornate bas-relief over that entrance featuring images of office workers underneath a sunburst.
You will notice that the ten-story base of the building is larger than what is above. The building was designed that way in order to accommodate the newspaper's large presses on the lower floors.
An addition to the Daily News Building was made in the late 1950s by architects Harrison and Abramowitz, including a five-story wing for the newspaper's enhanced printing plant and an 18-story wing to the east, which provided more office space. The newspaper moved out of the building in 1994 and the landmark skyscraper is now known as the News Building.
The Interior
Probably even more famous than the building's exterior is the giant globe that sits in its lobby. When the building first opened, it was one of the city's prime tourist attractions. The rotating globe sits in the middle of a domed room that's decorated with black glass. The map is updated as necessary. Clocks and thermometers line the walls near the globe, providing visitors with info about cities throughout the world.