The Tribune Tower is a Neo-Gothic skyscraper located at a prominent site near the Michigan Avenue Bridge in Chicago.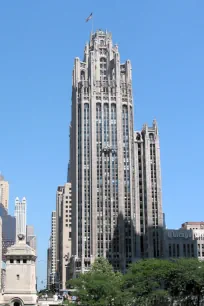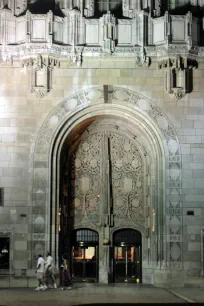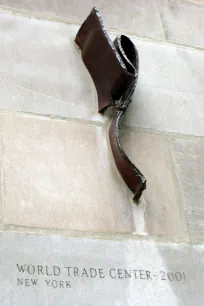 Competition
In 1922, the Chicago Daily Tribune organized a competition for the 'most beautiful and eye-catching building in the world'. Raymond Hood – who would later build the Rockefeller Center in New York – and John Howell won the first place due to their familiar Gothic design and because the building fulfilled the needs of the newspaper best.
Against the Trend
The award was very much criticized at the time as the Gothic design went against the modernizing trend set by the Chicago School and against the ideas of the more functional European architecture, later known as the International Style, which reduced decorations to the bare minimum. It would in fact be the second place design from Eliel Saarinen and another major contender from Walter Gropius, which would greatly influence later skyscraper designs.
The Tower
The Tribune Tower was constructed between 1923 and 1925. It reaches a height of 462 feet (141 meters) and has 36 floors. The building is located at North Michigan Avenue (known as the Magnificent Mile), near the Chicago River. The tower has been modeled after the Button Tower of the Rouen Cathedral in France. With its decorative buttresses at the top, the Chicago Tribune Tower remains a remarkable architectural monument.
Rock Collection
An interesting fact is that the Tribune Tower contains about 150 famous stones incorporated in the wall, including rock fragments from the Alamo, the Arc de Triomphe, the Berlin Wall, the Colosseum, the Great Pyramid of Giza, the Great Wall of China, Independence Hall, the Notre Dame Cathedral, the Parthenon, the Sydney Opera House, the Taj Mahal, the White House, and Westminster Abbey. A steel fragment from the World Trade Center in New York has also been added to the wall. All these objects are labeled with their location of origin and are visible from street level.
The stone collection was an idea of Colonel McCormick, the owner and publisher of the Chicago Tribune. He collected the first stones himself. Later stones were acquired by correspondents of the newspaper, while others were gifts. They were acquired over time, and stones continue to be embedded into the facade to this day.