One of the highlights in Chicago's Millennium Park is the modern and spectacular Crown Fountain. Its two glass towers are illuminated with LED lighting that shows moving images of Chicagoans' faces.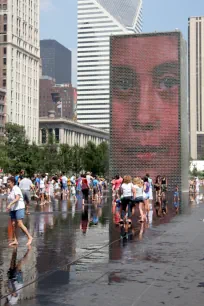 The fountain, financed with private donations including a ten million dollar gift of the Crown Family, consists of two 15-meter-tall (50ft) towers flanking a 71-meter-wide (232 ft) granite plaza. The fountain was designed by Spanish artist Jaume Plensa and the installation was built by Krueck + Sexton Architects and Crystal Fountains.
Video screens
The most remarkable aspect about the towers are the LED powered video screens that show close-ups of faces of about one thousand Chicagoans. Each face is shown for about five minutes ending when the subject purses its lips, at which point water spouts from their mouths, to the delight of children who try to position themselves under the water spouting digital gargoyle. After a short interval, a new face is randomly chosen by the fountain's computer system.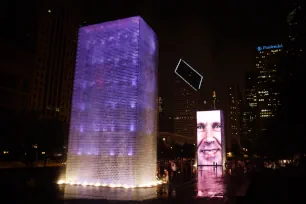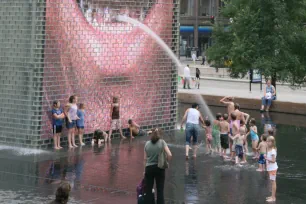 The Chicagoans whose faces were captured were selected from a varied number of organizations, and include people of all ages, from toddlers to senior citizens. They were filmed with an expensive high-definition camera – used in the Star Wars movies – and were asked to make facial expressions. They were also told to pretend they were blowing out a candle. These actions are now synchronized with the water spouting fountain.
The towers
The walls of the towers are made of clear glass bricks. At night, they seem to glow thanks to spotlights at the foot of the towers and LED lights that are installed behind the translucent bricks. During the day the LED lights show faces on the side facing the central plaza while the other sides are dark. During intervals between the display of different faces, the towers are completely dark.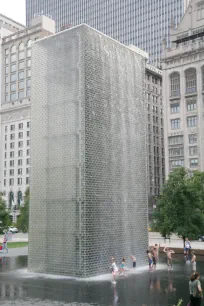 Of course, this wouldn't be called a fountain if there wasn't any water involved. Besides the water spouting digital faces, cascades of water fall down the sides of the towers, creating a water curtain in front of the glass walls. And the plaza between the towers is actually a very shallow reflecting pool.
The fountain – one of the most popular attractions in Millennium Park – attracts plenty of spectators, in particular when the weather is warm. The central plaza is often completely crowded. Children especially love the fountain; many walk under the water cascades or try to stand directly under the water spout.