First opened to traffic in 1920, the beautiful Michigan Avenue Bridge connects Chicago's north and south and accommodates thousands of cars and foot passengers each day.
Building the Bridge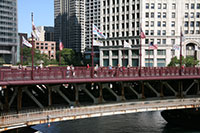 Michigan Avenue Bridge
The idea for the Michigan Avenue Bridge was first conceived when architect Daniel Burnham outlined his "Plan for Chicago", written in 1909. When it came time to build the bridge, Edward Bennett was chosen to draw the design, and work on the bridge commenced in 1917. After three years, the stunning Beaux-Arts-style bridge was complete, connecting north and south Michigan Avenue across the Chicago River. The ceremony to celebrate the opening of the bridge featured much pomp and circumstance, with hundreds crowded onto the bridge, several marching bands, and a gala fireworks display.
About the Bridge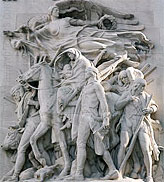 Bas-relief sculpture
Technically speaking, the Michigan Avenue Bridge is a double-deck, double-leaf trunnion bascule bridge, the first of its kind ever built. Specifically, a bascule bridge is a drawbridge hinged with a counterweight that continuously balances the leaf throughout the entire upward swing in providing clearance for boat traffic. (Michigan Avenue is the leaf.)
Because it has two leaves, the Michigan Avenue Bridge is known as a Double Bascule Trunnion. Trunnion refers to the pin and supporting bearing that forms the hinge, allowing the leaves to move up and down. So precise is the balance of the leaves and trunnions of this double-deck bridge, say engineers, that it only takes two 108-horsepower motors to open and close each of the 3,750-ton bridge leaves.(1)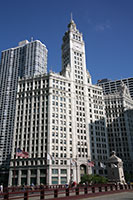 The bridge and
Wrigley Building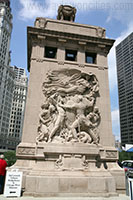 Bridge Tower
The bridge was considered an engineering marvel of its time, and engineers are still impressed with the nearly-century-old bridge's mechanical prowess.
Aside from the mechanics, however, it's the bas-relief sculptures on the bridge that make it one of the most photographed sights in Chicago. The sculptures depict important events in early Chicago history and are easily viewed while traversing the bridge on foot.
The Museum
In the summer of 2006, the McCormick Tribune Bridgehouse & Chicago River Museum opened in the southwest tower of the Michigan Avenue Bridge. Here, visitors can learn about the history of the river and view the giant gears of the bridge. This bridgehouse also once housed the men who tended to the opening and closing of the bridge to make way for passing ships.
Restoration
In 2009 the handrails on the Michigan Avenue Bridge were restored to bring them close to the original design. The bland gray railings were replaced with a more vibrant design featuring diamond patterns in a dark red color.
(1) Technical information courtesy of the Bridgehouse and Chicago River Museum