Sitting at one of the most prominent locations in all of Chicago, at the intersection of the Chicago River and Michigan Avenue, lies one of the city's most famous buildings : the Wrigley Building.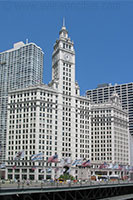 Wrigley Building
The Wrigley Building serves as the headquarters of the Wrigley (chewing gum) company and was built in 1920 by the company's founder, William Wrigley Jr.
Landmark Cluster
The construction of the Michigan Avenue Bridge and the widening of Michigan Avenue at the start of the twentieth century opened up a wide boulevard across the Chicago River to the north. In 1918, William Wrigley, Jr., sensing the potential of these developments, purchased a plot of land near the bridge to build the city's first landmark skyscraper north of the Chicago River.
It was the first of a series of landmarks at the southern end of what would later become the Magnificent Mile: its famous neighbors are the Tribune Tower (1925), the 333 North Michigan Avenue (1928) and the London Guarantee Building (1923).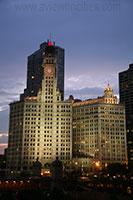 The building at dusk
The Wrigley building stands out with its sparkling white terracotta cladding, the well-proportioned architecture and the nighttime floodlighting. It was in fact the first landmark in Chicago to be floodlighted, which made it an immediate favorite among Chicagoans.
The Building
The Wrigley building was modeled on the Giralda tower of the cathedral in Seville. It consists of two sections: the tallest, 27-story south building has a 121-meter-tall tower (398 ft.) and was completed in 1921. The larger, 21-story northern section was completed in 1924.
The two structures are connected by an open walkway on street level and two elevated walkways, on the third and one on the thirteenth floor.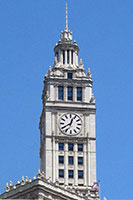 Clock Tower
The clock tower on the south building features four large dials. Each dial has a diameter of about 6 meter (20ft). The aluminum hour and minute hands on the clock are respectively more than 1.8 meter and 2.8 meter long (6 ft. and 9 ft.). The building is crowned with a cupola modeled after the Monument of Lysicrates in Athens.
Wrigley Plaza
Between the two structures is the small Wrigley plaza. It was originally designed by the Wrigley building's architects, Graham, Anderson and Probst, but wasn't built until 1957 by Louis Solomon and John Cordwell.