La Giralda, the bell tower of the Cathedral, is the most famous landmark in Seville. The tower was originally built at the end of the twelfth century as the minaret of a large mosque built by the Moors.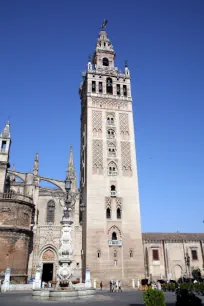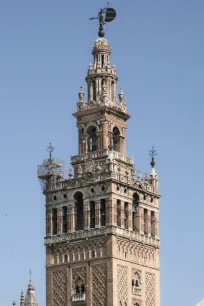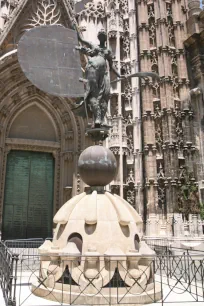 Construction
In the twelfth century the Almohades, who dominated the region, built a new great mosque in Seville. Construction of its minaret started in 1184 under the lead of engineer Gever, who designed an ingenious structure with two separate load-bearing walls connected to each other via an internal ramp. Construction of the minaret was completed in 1198.
Stones from ancient Roman monuments were used to build the tower. At the foot of the Giralda one can still find inscriptions dating back to the era of Emperor Augustus.
The Giralda
In 1356, after the reconquest of Seville by the Christians, much of the mosque was destroyed by a large earthquake. Only two parts of the original structure survived unscathed, the Patio de los Naranjos (a courtyard) and the minaret. The rest of the building was replaced by a Gothic cathedral.
In the fourteenth century, the original bronze spheres at the top of the tower were replaced by Christian symbols. Its current appearance dates back to 1568 when Hernán Ruiz added the magnificent belfry. Surprisingly, the Renaissance style of the belfry blends in harmoniously with the moorish base.
The name of the tower – Spanish for weathervane – stems from the large vane at the top of the belfry, known as giraldillo. The large statue, depicting Faith, shows a woman in a classical Roman attire, holding a shield in the right hand and a palm in the left. The original vane is now installed near the entrance of the cathedral at the Puerta de San Cristobal.
Copycats
Views