The Torre del Oro (Tower of Gold) is a historic watchtower that was built in the early thirteenth century by the Almohades, who ruled over Andalusia. The tower is now home to a naval museum.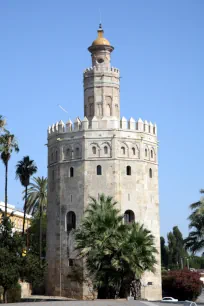 The Golden Tower is one of Seville's most photographed landmarks, as it is prominently located at a wide promenade near the river bank, close to the city's historic center.
The tower is a legacy of the Almohades, a Moorish dynasty that controlled much of Southern Spain until the reconquest of the area by the Christians in the thirteenth century. The cupola shaped top of the tower is a more recent addition; it was built in 1760.
Watchtower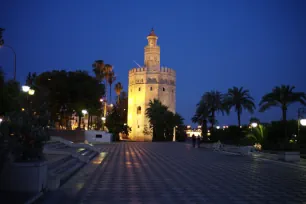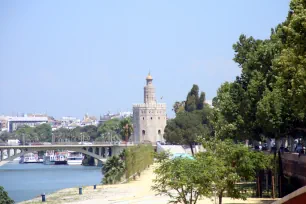 The tower was built at around the year 1220, by order of governor Abu Eola. The tower was part of the city's defensive walls, and it was linked to an octagonal tower nearby, the Torre de la Plata or Silver Tower, which has also been preserved.
At the time, the watchtower was used to control access to the city's port. A large chain connected the Torre del Oro with yet another tower across the river. When the chain was raised, it would block all ships from entering the city.
Naval Museum
After the reconquest of Seville, the tower was used as a prison. Tradition has it that it was even used as a shelter for the mistress of King Pedro I. Later the tower was used for a number of different purposes, and there were even proposals to demolish the structure. Today the Golden Tower is home to a naval museum which has a collection related to the city's rich maritime history and its connection with the New World.
Gold
The intriguing name – Tower of Gold – probably stems from the gilded azulejos (ceramic tiles) that originally decorated the tower. Another explanation given for the name was the gold that was unloaded here during the time that Seville had the monopoly over the trade with the New World.