A recognizable city landmark for more than one hundred years, San Francisco's Ferry Building was once the arrival point for all ferry traffic to the city. Today the historic building houses a food market.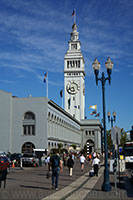 Ferry Building
Opened in 1898 on the site of an old wooden ferry house, the Ferry Building was a hub of San Francisco activity. Visitors from the East arrived via the Transcontinental Railroad in Oakland. This was also the end of the line for commuters who worked in San Francisco and lived in East Bay or nearby Marin County and, until the 1930s, the building served as the ferry terminal for visitors arriving from other locales.
The Building
The original building was designed by architect Arthur Page Brown. The length of the building was 201 meters / 660 feet, and the foundation was the largest such foundation for a building over water anywhere in the world. The 235-foot-tall (71 m.) clock tower that Brown designed for the Ferry Building was modeled after the Giralda Tower of the Seville Cathedral in Spain. The tower survived both the 1906 and 1989 earthquakes.
Unlike so many other historic buildings in San Francisco, the Ferry Building was saved from the devastating fire caused by the 1906 earthquake, as firefighters managed to keep the building wet using water from the bay.
Heyday and decline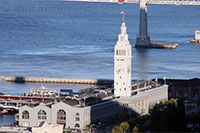 Arriving passengers stepped off the ferry and were greeted with a beautiful two-story public area with repeated interior arches, mosaic floors, and skylights that allowed the sun to shine into the room. Many days, 50,000 passengers made their way through the Ferry Building to catch one of the many ferries. However, the building of the Bay and Golden Gate Bridges in the late 1930s made ferry travel obsolete, and the building was used very little after the bridges began to accommodate most commuter traffic.
Unfortunately, much of the Ferry Building's original charm was lost when a development company in the 1950s converted the building to retail and office space, and in that same decade, the building of the double-decked Embarcadero Freeway totally obscured the front view of the famous structure. Fortunately, the freeway was eventually torn down in 1991 after it suffered extensive earthquake damage.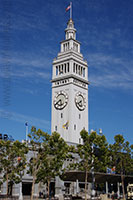 Clock Tower
The Ferry Building Today
Beginning in 1999, a massive renovation project began at the Ferry Building and was completed in 2003. It became a mixed-use property with a European-style food market hall on the ground floor and office space above. Restaurants and cafés are situated in the corners and both indoor and outdoor seating is available to customers. All the shops and eateries have a decidedly regional feel, touting wine and produce grown by local farmers and vintners.
The Ferry Building is now on the National Register of Historic Places and is a designated San Francisco city landmark.