The 210-feet-tall (64 m) Coit Tower on top of Telegraph Hill is a monument dedicated to the San Francisco firemen. The tower's interior is decorated with large colorful murals.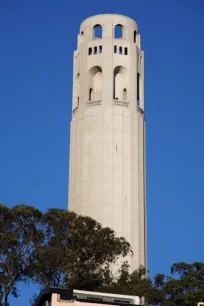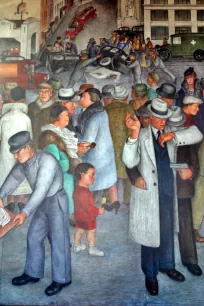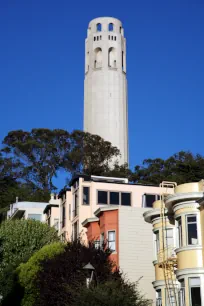 History
The Coit Tower was built in 1933 with funds from Lillie Hitchcock Coit. She was an eccentric personality who was best known for her support of the local firemen. When she died, she left one third of her fortune for the beautification of the city. The result was the Coit Tower, which is both a memorial for Lillie Hitchcock Coit and for the San Francisco firemen. The concrete tower was constructed by Arthur Brown Jr., best known for his magnificent City Hall.
Murals
The interior of the cylindrical tower is embellished with a large number of murals, most of them depicting life in California during the Great Depression. The murals are the result of a project that was part of the so-called 'New Deal' in which the federal government initiated many projects aimed at creating as many jobs as possible for the countless unemployed.
In total, twenty-five painters and nineteen assistants worked on the project, which shows – among many other scenes – a bank robbery, a scene from the harbor and a look into a department store. At the time, several of the murals caused controversy as they were deemed too left wing. Thanks to their historic significance, the murals are now protected as a historical treasure.
At the top of the Coit tower is an observation platform with spectacular 360° views over San Francisco.
Telegraph Hill
The Coit Tower is built on top of the 285-feet-high (87 m) Telegraph Hill, which is situated between Fisherman's Wharf and the Financial District. In 1850, a pole with movable arms on top of the hill was used as a signaling station. The wooden arms were adjusted to signal the incoming of ships. In 1853, it was replaced by an electric telegraph station, hence the hill's name.
Pioneer Park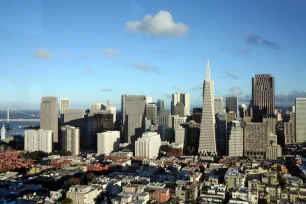 Surrounding the tower is the Pioneer Park. It was bought in 1876 by some businessmen to protect the hill from development. They donated it to the city on the premise that the area would become a park.
The Coit Tower can be reached by walking up the Greenwich steps or via the scenic Filbert Steps at Montgomery Street.