One of San Francisco's most visited attractions, Fisherman's Wharf is a delightful outdoor area where you'll not only find many fishing boats and seafood restaurants but also a whole range of attractions such as historic boats, a submarine, several museums and plenty of shops.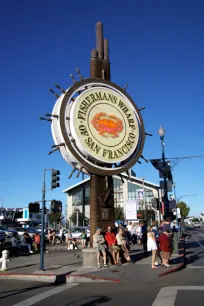 History of the Wharf
The wharf at San Francisco has always been a very lively area. From the late 19th century through to modern times, commercial fishermen gathered here to unload their catch of the day. Though boats have changed through the decades, the aptly-named Fisherman's Wharf area has remained at the heart of the city's fishing industry.
The area has long been famous for producing a wide variety of ocean fish, but is also well known for its wonderful population of Dungeness crab. Through the years, the opening of crab season in November has been accompanied by a festive celebration and before the advent of restaurants and sidewalk eateries in the Fisherman's Wharf area, fishermen would bring their catch ashore, cook them in boiling pots of water, and sell them to hungry passers-by.
The Wharf Today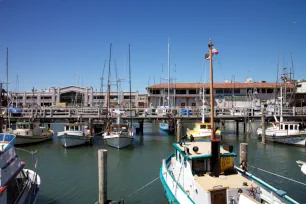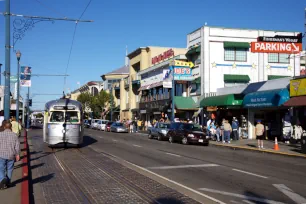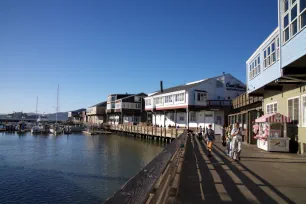 These days, Fisherman's Wharf is one of San Francisco's most visited areas, especially popular with first time visitors to the area. While some may consider it a "tourist trap", any guest to San Francisco would be missing a true Bay City experience if they forego a visit to this vibrant area.
Many people head to Fisherman's Wharf to enjoy the wonderful seafood sold there, including hot, steaming servings of clam chowder served in fresh sourdough bread bowls. And for dessert, don't miss a trip to Ghirardelli Square, where you can taste some of the country's most scrumptious chocolate!
Others want to do a little shopping down by the wharf, and with several shopping areas in and around the area, the possibilities are endless – from kitschy souvenirs to local crafts to boutique-style clothing. Check out some of the street corner artists that produce amazing work!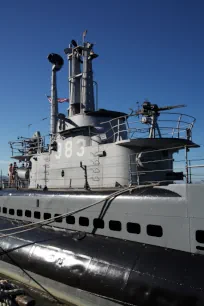 Attractions
But besides shopping and dining, Fisherman's Wharf also boasts its own attractions. San Francisco Maritime National Historic Park is a favorite with visitors. Nearby at Hyde Street Pier you can visit one of the country's largest collections of historic ships. In the same area, near Pier 45, guests can tour the World War II submarine USS Pampanito. Another attraction at Pier 45 is the Musée Mécanique, a museum where you can admire all sorts of old slot-machines and coin-operated musical instruments.
The Aquarium of the Bay at Pier 39 is also fascinating, providing the opportunity to walk through clear tunnels and observe local marine life, including sharks, bat rays, and other indigenous sea animals.
Boats that offer bay cruises and/or journeys to Alcatraz Island also leave from the Fisherman's Wharf area, as do various other land-based tours. Lodging is plentiful in the area and rooms often provide a great view of the bay and the Golden Gate Bridge.