The city hall of San Francisco is one of the country's most magnificent Beaux-Arts buildings, and arguably the most beautiful city hall in all of the United States. The city hall's grandeur was a reflection of the growing importance of the city of San Francisco.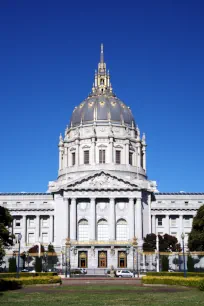 Old City Hall
The current building replaced the Old City Hall, which opened in 1899 after twenty-seven years of construction. In 1906, only seven years after its completion, this domed building was destroyed by the disastrous earthquake of 1906.
A New City Hall
In 1912 a competition was organized to choose a design for a new city hall, which was to be the central building of the planned Civic Center. The winning proposal was submitted by Arthur Brown, the architect responsible for many other buildings in San Francisco, including the Opera House and the Coit Tower.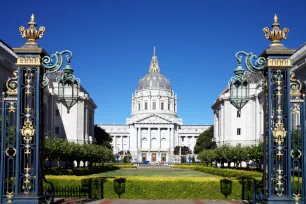 Brown's classical design was influenced by his studies at the École des Beaux-Arts in Paris. The building, constructed between 1913 and 1915, uses many classical design elements like the portico and Doric columns. The Dôme des Invalides in Paris served as the inspiration for the huge dome.
The city hall's interior features beautiful stuccoed walls and ceilings, marble floors and a monumental marble staircase flanked by elegant lanterns.
Seismic-proof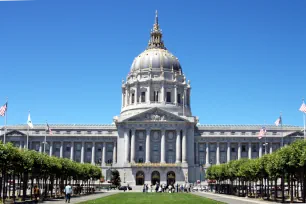 On October 17, 1989, an earthquake of magnitude 7.1 hit San Francisco, damaging the City Hall. Its dome had moved four inches (ten centimeters) and cracks appeared in the wall.
A thorough renovation, completed in 1999, not only repaired the damage; it also restored the building to its original splendor and made the building seismic-proof. This was achieved by isolating the building from its foundation by installing an isolation layer of rubber and steel discs under the building. The layer protects the historic building by absorbing the seismic shocks.