Lombard Street is a long road situated between Embarcadero and the Presidio park, where it becomes a main artery channeling traffic to the Golden Gate Bridge.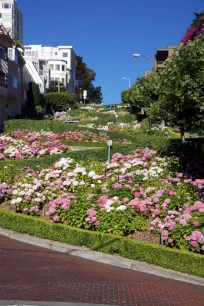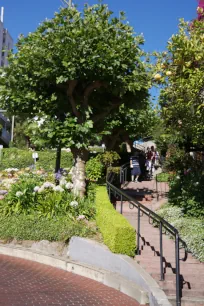 The street is famous for a small section near the top of Russian Hill, between Hyde and Leavenworth Streets. Here the hill is so steep (27°) that it would be too dangerous for most vehicles, so between 1922 and 1923 this part of Lombard Street was transformed into a switchback with eight sharp turns. Cars can only drive downhill, eastbound towards Leavenworth Street.
Winding down the road
The sight of cars maneuvering down the winding road has become a popular tourist attraction. Some tourists even drive down the street themselves, braving the frequent traffic jams and bumper to bumper traffic. If this sounds like fun to you, and you also want to feel how it's like driving down a switchback, make sure you approach Lombard Street from Hyde Street since this is a one-way street.
But it's probably a better idea to leave the car at the parking lot and take the Powel-Hyde cable car, which stops at the top. From here you not only have a view down Lombard Street, but you can also see Fisherman's Wharf and Alcatraz. Walking down to Leavenworth Street, at the bottom of the crooked street, you get an even better view of Lombard Street, looking up towards all the cars slowly heading down.
Crookedest Street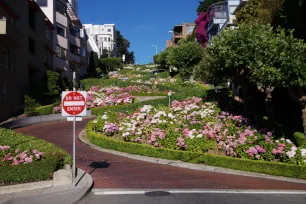 Even though Lombard Street is billed as the crookedest street in the world, it is not even the most crooked or steepest street in San Francisco. The steepest street is Filbert Street, with a 31.5° slope, while Vermont Avenue at 20th Street claims to be the most crooked. And Snake Alley in Burlington, Iowa, has even sharper turns. But all this doesn't matter for Lombard Street: it is the most photogenic of them all, especially in the spring and summer, when the many chrysanthemums in the well tended flowerbeds are in full bloom.