The USS Pampanito is a historic submarine that saw a lot of action in the Second World War. The submarine is now permanently docked at Pier 45. Visitors can get on board the ship and walk through its cramped spaces.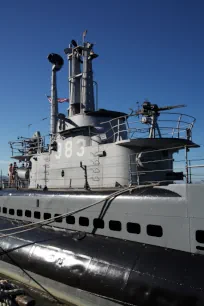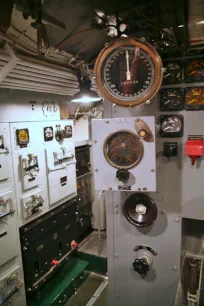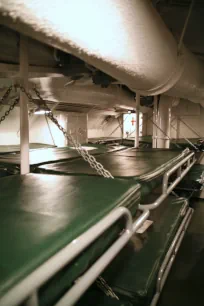 History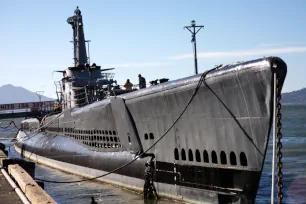 USS Pampanito is a submarine of the Balao class, a type of submarine mainly used during World War II. The ship was constructed at New Hampshire's Portsmouth Naval Shipyard and was launched in July 1943 in the midst of the war. It was commissioned later that year and headed out to the Pacific after conducting training exercises in the waters off New England. She arrived at Pearl Harbor on February 14, 1944.
The almost 312-ft-long (95 m.) ship made six patrols in the Pacific in a little more than a year, usually returning to Pearl Harbor or Hunters Point (San Francisco) for repairs. As she headed out towards her seventh patrol, the war ended. By that time, the USS Pampanito had become well known for sinking six Japanese ships and badly damaging four others.
State of the art
The USS Pampanito was a state-of-the-art submarine during her heyday. The new Balao class was "thick-skinned" and this thicker pressure hull allowed for an increased maximum diving depth to over 400 feet (122 meters), a depth of 100 feet (30 meters) beyond the earlier Gato class boats. It also boasted much more sophisticated gear for locating targets and carried new electronic torpedoes.
Visiting the Ship
Opened to the public in 1982 and chosen for display because of its excellent condition, the USS Pampanito has slowly been restored to its 1945 state. The most recent renovation and restoration occurred in 2006 and the ship returned to its place of honor in February 2007.
Visitors who board this fascinating vessel have the opportunity to truly experience what life was like aboard this crowded submarine. Upon entering, guests can visit the main deck as well as the crew's mess quarters, the engine and motor rooms, the radio and control rooms, the pump room, the forward battery compartment, and the forward torpedo room. Inside, you realize just how cramped it must have been for the submarine's ten officers and seventy seamen.
The USS Pampanito is located at Pier 45 in the middle of Fisherman's Wharf. Guests may visit year round and, for a reasonable fee, enjoy a self-guided tour of the submarine.