San Francisco's Palace of Fine Arts was originally built for an exhibition that celebrated the completion of the Panama Canal and the city's recovery from the 1906 earthquake and fire.
The Original Design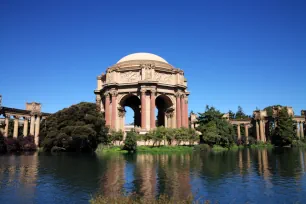 Architect Bernard R. Maybeck was charged with the task of creating a grand structure for the 1915 Pan-Pacific International Exhibition to be held in San Francisco. The theme he chose for his design was that of a Roman ruin, meant to show "the mortality of grandeur and the vanity of human wishes …."
The architect and members of the exhibition committee chose a 3-acre (1.2 ha.) spot in the city's current Marina District for the Palace. The lagoon surrounding the building served to reflect the structure and was reminiscent of similar settings common in Europe.
However, such buildings for exhibitions were not meant to last, intended for dismantling after the exhibition was complete. So the palace's beautiful Greco-Romanesque rotunda and the eight colonnades that made up the original Palace of Fine Arts were framed in wood and covered with a burlap-fiber mixture known as "staff". Subsequently, most of the buildings didn't last long. However, the crescent-shaped gallery behind the rotunda, which housed valuable works of art, survived – thanks to its concrete walls which were fashioned as such to protect the art.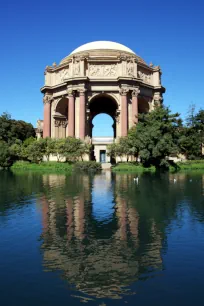 Preserving the Palace
Though the local League of Fine Arts tried to preserve the building after the exposition, upkeep proved too costly. In the 1930s, 18 lighted tennis courts appeared on the site. During World War II, the Palace was home to a pool of jeeps and other Army vehicles. By the 1950s, the structure had been so abused that the building and grounds were declared unsafe for use.
By the early 60s, however, both local government and concerned citizens recognized the fact that the loss of the Palace of Fine Arts was indeed a great loss to the people of the city. Fundraising and philanthropic donations resulted in the demolition and reconstruction of the palace in 1964, using plans by Hans Gerson, duplicating Maybeck's originals.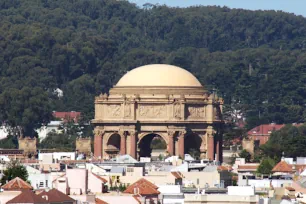 By the 70s, the north and south colonnade rose again, and the gallery became the permanent home of the Palace of Fine Arts Theater, a 1,000-seat performing arts theater that hosts a variety of concerts and events.
Exploratorium
In 1969, a science museum known as the Exploratorium opened in the Palace of Fine Arts. The museum was founded by Dr. Frank Oppenheimer (brother of Robert Oppenheimer). The hands-on science center strives to make science accessible to the masses. It moved out of the Palace of Fine arts in 2013 and is currently located on Piers 15 and 17 at the Embarcadero.