Commonly known as "The Haight", San Francisco's Haight-Ashbury neighborhood is most closely associated with the Hippie subculture of the 1960s, some of which is still evident today.
Early History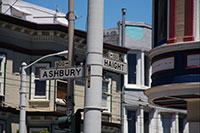 Haight & Ashbury Street corner
When San Francisco was just a young city, the area known as Haight-Ashbury was full of farms and open space. But when the Haight Street cable car line was built, the neighborhood experienced a boom, eventually becoming a desirable upper-middle-class neighborhood with many lovely homes. It was also one of the few parts of the city that was spared after the fires that followed the famous 1906 San Francisco Earthquake.
During and after the Great Depression, Haight-Ashbury suffered a serious decline and after a slight rise post-World War II, by the 1950s it was a less than desirable neighborhood with plenty of vacant houses.
The Hippies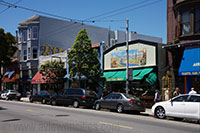 Haight Street
Soon, the presence of empty houses for sale at low prices and plenty of cheap rooms to rent attracted a group of young people (many of them beatniks) that eventually became known as Hippies. By the mid-60s, Haight-Ashbury became the home base of the Hippie subculture. It was also known as a center for illegal drug use and became home to many of the decades' psychedelic rock groups, like Jefferson Airplane and The Grateful Dead.
By the time the 1967 "Summer of Love" happened, Haight-Ashbury was "the" place to be if you were a Hippie. Thousands of young people had, by this time, migrated to the area from all around the country. Haight-Ashbury received lots of negative publicity from conservative groups who disapproved of the Hippie lifestyle, and many looked down at San Francisco as a place that proliferated this bohemian way of life.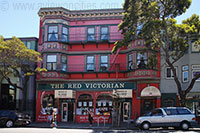 The Red Victorian
Since that time, the neighborhood has never been the same, and some members of the Flower Power generation still make their home in The Haight more than forty years later.
Haight-Ashbury Today
Haight-Ashbury is no longer a haven for Hippies, but some of that culture is still evident in the many vintage clothing shops, second-hand stores, and cafés scattered around the neighborhood.
Today, locals break The Haight into two sections: Upper and Lower. The Upper Haight extends from Stanyan to Masonic and tends to be an upscale shopping area that attracts both tourists and affluent residents. The Lower Haight, in contrast, is home to a number of music clubs and is a popular nightlife destination.