This striking cathedral was built in 1967 by renowned architect/engineer Pier Luigi Nervi and partnering architect Pietro Belluschi. The church is one of the city's architectural highlights.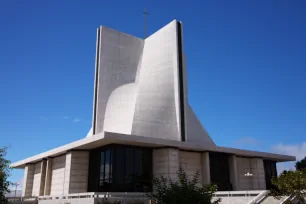 Officially named the Cathedral of Saint Mary of the Assumption but better known simply as St. Mary's Cathedral, this stunning San Francisco church has become an easily recognizable landmark for those who frequent the city.
The Building
Completed in 1971, this Roman Catholic cathedral – the Mother Church of the Archdiocese of San Francisco – soars 190 feet (58 meters) into the air and is topped with a 55-foot-tall (17 meters) golden cross. It is the third St. Mary's to serve the people of San Francisco. The oldest – dubbed Old St. Mary's – still sits at California and Grant Street, at the border of Chinatown. The other was destroyed in a fire.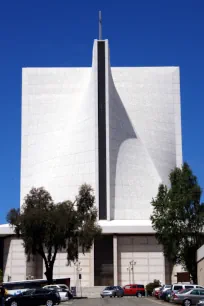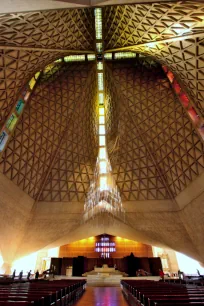 The architectural style of this cathedral is usually described as Expressionist Modern. Designed by Pier Luigi Nervi and Pietro Belluschi, the cathedral flows upward in graceful lines from each of its four corners, meeting in the middle to form a cross.
The reinforced concrete roof is covered with white Italian marble. The four corner pylons support the cupola, which rises to 19 stories. The pylons extend down 90 feet (27 meters) into the bedrock in order to provide more stable support. According to architect's records, the inner surface of the cupola is made up of 1,680 pre-cast triangular coffers of 128 different sizes, designed to distribute the weight of the cupola.
Interior
The windows are huge and provide wonderful views of the city of San Francisco, and the red brick floor – which may seem out of place to some – is meant to reflect California's Spanish Mission heritage.
A kinetic sculpture by Richard Lippold sits above the altar. Fifteen stories high and weighing one ton, this modern piece consists of fourteen tiers of triangular aluminum rods.
A Contemporary Church
The plans for this modern cathedral were drawn up not too long after the suggested reforms of the Second Vatican Council had been put into place, and the architect, Pier Luigi Nervi, called it "the first cathedral truly of our time and in harmony with the liturgical reforms of the Council".