Washington Square is the green heart of San Francisco's North Beach district, thanks to the grassy park that takes up most of the square. The park is popular with locals who come here to do tai chi, have a picnic, walk their dog or just relax.
Washington Square Park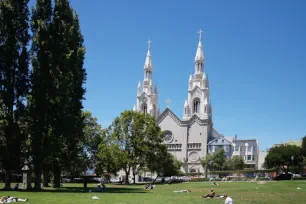 First laid out in 1955, the park originally had a rectangular shape, but after the construction of Columbus Avenue in 1872, a triangular section in the southeast corner of the park was cut off, creating a now fenced off traffic island.
The rest of the park is still intact and consists of not much more than grassland with some poplars, cypresses and plane trees. At the center of the park stands a small bronze statue of Benjamin Franklin. The statue was donated to the city by Henry Cogswell, a dentist whose investments in stocks and real estate during the gold rush made him one of the city's first millionaires. When it was installed here in 1879, a time capsule was placed under the statue. The capsule, which mostly contained objects from Henry Cogswell, was opened in 1979 and replaced with a new one, to be opened in 2079.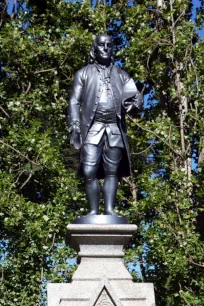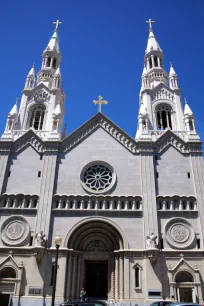 Another statue, in the northwest corner of the park, honors San Francisco's firefighters and was funded with a bequest from Lillie Hitchcock Coit, whose legacy was also instrumental in the construction of the Coit Tower on Telegraph Hill, which was named after her.
Saints Peter and Paul Church
Washington Square is dominated by the twin spires of the Saints Peter and Paul Church, an Italianesque structure erected here in 1924.
The church was long known as the Italian Cathedral of the West, for the many Italian immigrants that congregated here. One of them was Joe DiMaggio, a baseball player who for a short time was married to Marilyn Monroe. They posed in front of the church for their wedding photographs.
The church was created by architect Charles Fontani, who also designed the magnificent marble high altar. The apse painting above the altar depicts Christ and was created by the Italian artists Ettore (Hector) and Giuditta Serbaroli. Also of interest are the stained-glass rose window and the Pietà, a replica of Michelangelo's famous sculpture in the Saint Peter's Basilica in Rome.