The Plaza de España is a majestic architectural complex built as the central office for the Ibero-American Exposition, a world fair held in Seville in 1929. It is located in the Maria Luisa Park, just south of Seville's historic center.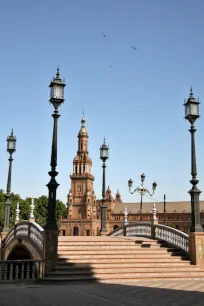 1929 World Fair
The Ibero-American Exposition was held in Seville in 1929 to increase the ties between host Spain, Portugal and their former colonies. Each country built a pavilion and in contrary to most world expositions, the pavilions were built for the long term.
The centerpiece and administrative office of the world fair was the Plaza de Espana, designed by the Spanish architect Anibal González, who was also responsible for several other world fair pavilions. Today the structure is occupied by government offices and by the general office of the regional army.
Architecture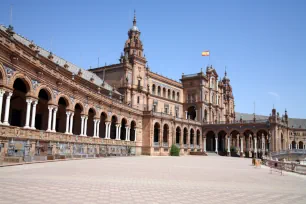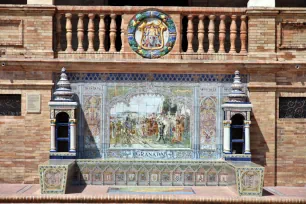 The Plaza de España is a harmonious complex in a typical regional revival style, which was very popular at the time. The red brick structure is decorated with colorful painted ceramic tiles.
Two tall towers at each end are connected to a central structure by a long colonnaded gallery. Its curved facade follows the contours of a semicircular plaza with a large central fountain. The plaza is surrounded by a canal, and beautiful bridges decorated with ceramic tiles connect the plaza with the wide promenade that runs along the front of the building.
Azulejos
The complex is decorated with azulejos, painted ceramic tiles that are popular in Seville and can be found all across the city.The building's facade as well as a row of streetlamps and the bridges on the Plaza de España are decorated with colorful azulejos.
The showpiece however is the series of fifty-eight benches that line the facade of the main structure. The benches, completely covered with panels of azulejos, depict allegorical paintings representing the provinces of Spain.