The Monument of Lysicrates is the best preserved choragic monument in Athens. Such monuments were built in Ancient Greece as a base on which trophies were placed. This particular monument was built in the fourth century BC by Lysicrates, a wealthy citizen.
Theater Competitions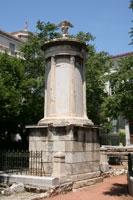 Monument of Lysicrates
In ancient times, yearly competitions were organized in the Theater of Dionysus, during which theater plays were pitted against each other. The theater performances were sponsored by the so-called choregoi, wealthy patrons of the arts. The chorego who sponsored the winning performance received a prize, usually a trophy in the form of a bronze tripod.
In 334 BC a certain Lysicrates, son of Lysitheides, received such a prize. As was customary at the time, he built a monument upon which the trophy was placed.
The Monument
The Monument of Lysicrates measures over nine meters high (30 ft). On top of a large pedestal stands a tholos, a circular structure with Corinthian columns covered with a marble roof. It is crowned with a capital in the shape of acanthus leaves. The bronze trophy was placed on top of this capital.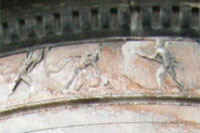 Detail of the frieze
A frieze just below the roof depicts scenes from the play that won the competition. It shows Dionysus, the patron god of the stage, who defeats Tyrrhenian pirates by turning them into dolphins.
This monument is one of only a few surviving choragic monuments. It survived in part thanks to its integration in a capuchin monastery that was built here in 1669. The capuchin monks purportedly used the monument as a library. Today, the Monument of Lysicrates stands isolated at the center of the namesake square, not far from the Theater of Dionysus.
Copycats
During the nineteenth century, the Monument of Lysicrates became popular in the West as a symbol of ancient Greek culture. It has been used as a model for buildings, such as the
Merchants' Exchange in Philadelphia
and was the inspiration for other monuments such as the Dugald Stewart Monument in Edinburgh. There's even an exact replica in the
Royal Botanic Gardens in Sydney
.