Perched on the north slope of the Acropolis Hill is one of Athens's most idyllic neighborhoods, Anafiotika. The picturesque whitewashed houses and narrow alleys are reminiscent of a Cyclade island village.
Cyclades Islands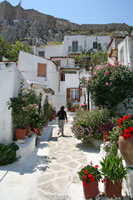 Anafiotika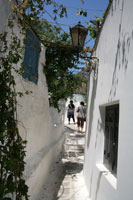 Alley in Anafiotika
The resemblance to the typical villages on the Cyclades islands is no coincidence. The houses were built in 1841 by workers who hailed from the Cyclade island of Anafi, hence the name Anafiotika.
They arrived here shortly after Athens became the new capital of independent Greece, when king Otto I started a building boom to transform the city into a modern metropolis. The construction activity attracted plenty of immigrants, including many people from the Cyclades, in particular the islands of Anafi and Naxos.
Construction
Partly out of economic necessity, they built small houses in an area that since 1834 had been designated as a protected archaeological site. The houses were built in such a short timespan that authorities were unable to stop construction.
It seems the immigrants were struck by a bout of homesickness when they built their new houses, since they were all constructed in a typical island-style with bright white painted walls. The layout of the village also resembles those of the Cyclades Islands, with very narrow alleys and step streets.
Anafiotika Today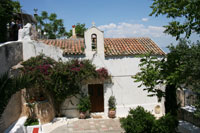 Church of St. George on the Rock
Anafiotika (also spelled Anaphiotika) is situated just north of Plaka – the old historical neighborhood of Athens – between two churches: the Agios Georgios tou Vrachou (Church of St. George of the Rock) and the Agios Simeon (St. Simeon Church). Both these churches were rebuilt in the nineteenth century by the residents of Anafiotika in typical Cycladic style.
The area is one of the city's most charming, and many of the houses are decorated with colorful bougainvillea. Despite the constant stream of tourists, you won't find many restaurants or souvenir shops here. The modest houses are still inhabited by descendents of the original immigrants from Anafi.