The Panathenaic Stadium was originally built in the fourth century BC. After it had fallen into decay, it was rebuilt at the end of the nineteenth century as the main stadium for the first modern Olympic Games.

Panathenaic Stadium
The stadium is also known as the Kallimármaro (beautifully marbled), a reference to the marble cladding of the stadium.
The stadium in the Antiquity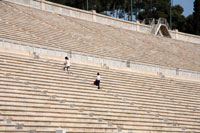 Marble Seating
The Panathenaic Stadium was built in 330-329 BC by Lycurgus and was the site of the Panathenaic Games. The games were held as part of a large festival that was organized every four years in honor of goddess Athena. Athletic competitions were held in the stadium, which only had wooden seating for officials. Common people watched the competitions from the slopes around the stadium.
In 144 AD, during the Roman era, the stadium was rebuilt by Herodes Atticus. This time the seating was completely clad in marble and the stadium was much larger than before, measuring 204 by 83 meters (669 x 272 ft) and accommodating approximately fifty thousand spectators. During the Roman period, the stadium was often the scene of gladiatorial fights.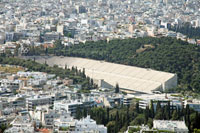 During the Middle Ages, citizens used the marble of the stadium for the construction of new buildings, and the Panathenaic Stadium fell into decay.
Reconstruction
At the end of the nineteenth century, at a time when the interest in the heritage of Ancient Greece was growing, the first modern version of the Olympic Games was held in Athens. For this occasion the Panathenaic Stadium was restored by Anastasios Metaxas and clad again in white Pentelic marble.
The Panathenaic Stadium was renovated again for the Olympic Games of 2004, when it hosted the archery competition. The marathon also finished in this historic stadium.