Lykavittos is the highest hill in Athens, and is visible from all over the city. A funicular brings visitors to the top of the hill, which offers great views over the Acropolis and the city of Athens.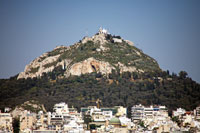 Lykavittos Hill
The hill, also called Lykabettus, can alternatively also be climbed on foot or by car. Cars can't reach the top, so you'll still have some walking to do before you reach the peak of the hill at a height of 277 meters (over 900 ft).
History
Despite its prominence very little is known about the history of the hill, and ancient Greek writers rarely mentioned Lykavittos as life centered around the Acropolis and Philopappos. According to Greek mythology, Athena – the patron deity of Athens – dropped the rock here by accident when she was creating the Acropolis. The top of the hill used to be barren, until trees were planted here at the turn of the twentieth century.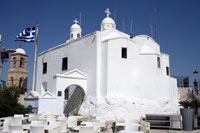 St. George Chapel
The origin of the name of the hill is unclear. According to legend Lykavittos was inhabited by wolves, and its name might mean 'Mountain of Wolves'.
St. George Chapel
Perched on top of Lykavittos sits the whitewashed chapel of Georgios, a landmark building that is visible from afar. The orthodox chapel, dedicated to St. George, was built here in the nineteenth century and replaced an older Byzantine church dedicated to the prophet Elias.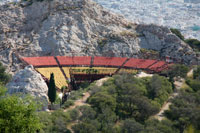 Lykavittos Theater
Northeast of the chapel, near the car park, is the Lykavittos Theater, a large open air theater with a seating capacity of four thousand. During summer months theater performances as well as concerts are held here.
The View
From an observation platform near the St. George Chapel, visitors have a great view over Athens. The view reaches as far as Piraeus and the Saronic Gulf, provided the sky is clear. Some of the landmarks that are clearly visible from here include the Acropolis, the Temple of Zeus, the Panathenaic Stadium and the Parliament Building. There's a restaurant and a café at the top, so you can enjoy the view while taking a break. The view is also quite spectacular at night, when the Acropolis and many other major sights in Athens are illuminated.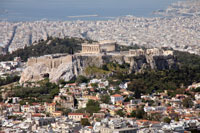 Acropolis seen from Lykavittos
Funicular
The easiest way to reach the top of the Lykavittos is by Funicular, which departs approximately every thirty minutes at Aristippou and Ploutarchou streets.