The Benaki Museum is a remarkable museum with a diverse collection that gives an overview of art and culture in Greece from the Neolithic Age to the early twentieth century.
Antonis Benakis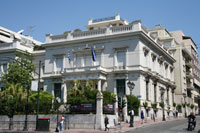 Benaki Museum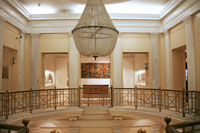 Interior
Antonis Benakis (1873 – 1954) was born in Alexandria, Egypt as the son of a wealthy Greek merchant, Emmanouil Benakis, who had made his fortune in Egypt. Antonis was an art connoisseur and started collecting art while in Egypt. When he moved to Athens in 1926 he decided to donate his art collections to the Greek state.
They are now displayed in his parental home, a beautiful neoclassical mansion purchased in 1910 by his father. The building, sporting a stylish façade with a Doric porch, was designed by Anastasios Metaxas, a Greek architect best known for his restoration of the Panathenaic Stadium.
Museum Collection
The museum's exhibits give a chronological overview of the history of Greek art and crafts from the prehistoric times to the modern age. They are spread over several floors of the Benaki mansion, which is an interesting sight in itself.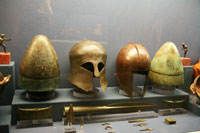 Greek Helmets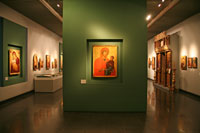 Byzantine art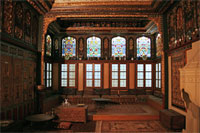 Period Room
The first rooms give an overview of artifacts from the Neolithic period, starting in the seventh millennium BC, to the Archaic period in the sixth century BC. Here you'll see a collection ranging from clay vases and basic tools to jewelry, sculptures and beautifully painted vases. Of note are three thousand year-old silver and golden bowls and the magnificent golden Mycaenean treasures.
The following rooms give an overview of the Classical period – the golden Age of Athens – and the Hellenistic and Roman periods, spanning a period from 500 BC to the third century AD. Here you'll see a number of classical sculptures, vases, stelae and jewelry, including a magnificent decorative Hellenistic belt from the third century BC.
Byzantine art is well represented, from the early period in the fourth century AD up to the fifteenth century. A large collection of paintings and mosaics give a good overview of the evolution of iconography during this one thousand year span.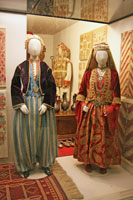 Traditional costumes
A number of rooms are dedicated to traditional Greek culture and daily life in Greece, with many traditional costumes on display. There are also a couple of reconstructions of eighteenth-century Macedonian rooms with extremely rich decorations. There is also a nice display of silverware and household objects.
The last series of rooms show items from the fight for independence in the early nineteenth century – including weapons from revolutionaries – and from the early days of independence under the reign of kings Otto I and George I.