The large complex known as the Library of Hadrian was built in the second century AD by the Roman emperor Hadrian. The building is almost as large as the whole Roman Agora, located just south of the library.
Hadrian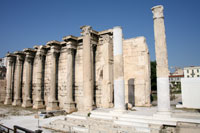 Library of Hadrian
Emperor Hadrian, who ruled the Roman Empire from 117 to 138 AD, was an ardent admirer of Greek culture and regularly visited Athens. Hadrian wanted to make Athens the cultural capital of the Roman Empire, and during his visits he initiated several building projects, including the construction of a large library.
The Library Complex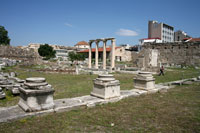 The ruins of the library
The library was built between 125 and 132 AD on a rectangular plan. It wasn't a library as we know today, but more of a cultural complex, with lecture halls, a transcription room, a library hall – known as the Bibliostasio – and possibly even a theater.
The complex – which measured about 120 meters long and 78 meters wide (400 x 260 feet) – was built around a large rectangular inner garden with a pond. The garden was adorned with large marble statues of Athena and Hadrian. The floors of the halls were decorated with mosaic marble tiles. Papyrus rolls were stored in forty niches in the library, which held an approximate 16,800 'books'.
The Ruins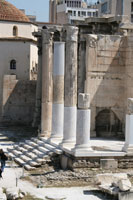 The main portico
The building was seriously damaged during the sack of Athens in 267 AD by the Germanic Heruli tribe. In the fifth century, a new building was constructed on top of the ruins. Later, in the eleventh century, a church was built here, which was demolished in 1885. The following century, another small church was built at the entrance of the library. This church was also demolished, in 1843.
The most prominent remainder of the original library is a section of the outer wall, with huge Corinthian columns. You can also see the large portico that served as the main entrance to the inner courtyard.