The First Cemetery of Athens was created in the early nineteenth century and contains the graves and tombs of some of the most notable citizens of modern Greece, including many leading politicians and intellectuals.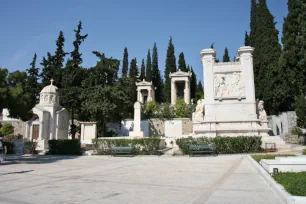 The First Cemetery, situated south-west of the Panathenaic Stadium, is completely walled-in. The main entrance is situated to the northwest of the cemetery, facing a small square at the end of Anapafseos street.
The Cemetery
The cemetery – not to be confused with Kerameikos, the ancient cemetery – is the oldest cemetery of modern-day Athens, first used in 1837. In 1861 the cemetery was laid out in a rather informal way with a maze of pathways and pine trees, cypresses and olive trees planted throughout, giving it a park-like feel. As a result, there is plenty of shade, which makes the cemetery a pleasure to walk through.
Tombs
Right behind the cemetery's modern entrance stands the church of St. Theodore, a small orthodox church. Nearby are some of the oldest and most monumental tombs.
One of the most impressive is the Tomb of Georgios Averoff, a Greek businessman. It shows Averoff seated on top of a pedestal, with four lions flanking the corners of the tomb. Another impressive sepulchral monument is the tomb of the German archaeologist Heinrich Schliemann, which resembles an ancient Greek temple. It was created by Ernst Ziller, the German architect who renovated the Panathenaic Stadium and built the National Archaeological Museum. Ancient Greece is a recurring theme in the cemetery, and many tombs are decorated with small neoclassical temples, stelae with relief sculptures and even choragic monuments.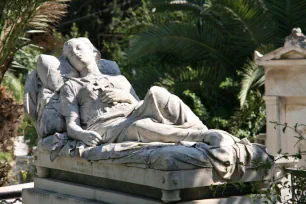 But probably the most famous of all the funerary monuments is the grave with the Sleeping Girl (Kimomeni). It was created in 1877 by Giannoulis Chalepas, a Greek sculptor, and depicts Sofia Afentaki, a girl who died at the age of eighteen from tuberculosis.
There are also twentieth-century personalities buried at the cemetery, including Nobel-prize winning poet Giorgios Seferis, former prime minister Andreas Papandreou and actress / politician Melina Merkouri.