Monastiraki Square is one of the most attractive squares in Athens. For centuries, this square was the city's commercial center. Today, it is particularly crowded on Sundays, when the nearby open air flea market attracts throngs of tourists.
Monastery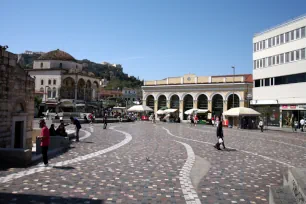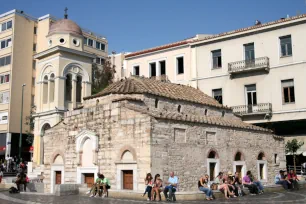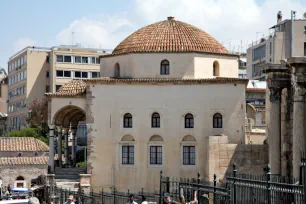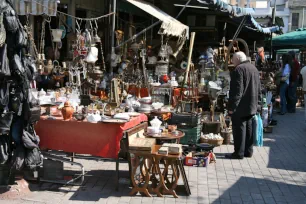 Monastiraki was the site of one of the largest monasteries in Athens. Most of this 'Great Monastery' was demolished during archaeological excavations in the nineteenth century. So little was left of the complex – only the church remains – that it was ironically named 'monastiráki' or 'little monastery', which eventually gave the neighborhood its name.
The surviving church, also known as the Pantanassa Church, was built in the seventeenth century on the site of an older church that probably dated back to the tenth century. The Monastiraki Church has a richly decorated interior with a beautifully painted vault. The church was restored in 2007.
Tzistarakis Mosque
At the south corner of the Monastiraki Square, bordering the Library of Hadrian, stands a domed building with a triple-arched loggia. It was built in the eighteenth century, during the Ottoman occupation, by the local governor Tzistarakis as a mosque.
In 1759, during the construction, Tzistarakis overstepped his authority by demolishing one of the remaining columns of the Temple of the Olympian Zeus for use as a building material.
Athenians believed that the destruction of the column might bring an ancient curse upon them, and Tzistarakis was blamed for the plague that broke out that same year. He was soon removed from power and eventually poisoned.
After Greece was finally independent in the early nineteenth century, the state confiscated the building and demolished the minaret. Today the building is home to a ceramics museum, an annex of the Museum of Greek Folk Art.
Flea Market
For many tourists Monastiraki Square is the starting point for a visit to the Flea Market, an open air market that is held once a week at the nearby Plateia Avissynias. Here you can find anything from kitsch and souvenirs to chandeliers and beautifully crafted armoires.