The completion of 333 Wacker Drive in 1983 gave Chicago one of its first and most acclaimed postmodern skyscrapers.
The 36-story green glass building known simply by its address launched to fame the architectural firm of Kohn Pedersen Fox. The building is best known for its innovative and stunning design. The side which faces the Chicago River is fashioned from curved greenish-blue glass, known to provide a beautiful reflection of the setting sun.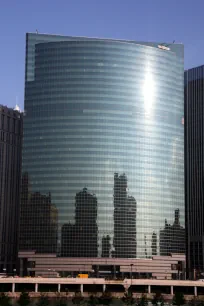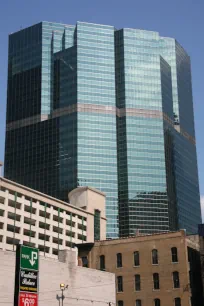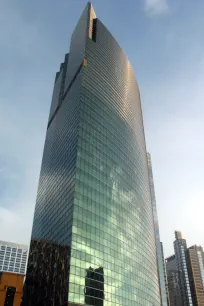 The Plot
The building is located at an awkward triangular site where the Chicago River makes a sharp turn. William Pedersen turned the disadvantage of an unorthodox site into a strength by designing the facade in a curved way so that it would follow the river. The careful study of the relationship between the building and its environment, as well as the postmodern use of materials, would become a trademark of Kohn Pedersen Fox.
The Building
As is often seen in postmodern buildings, 333 Wacker drive follows the concept of classical architecture with a base, shaft and capital. The base of the building is made of Vermont granite and marble and is in the shape of an X, serrated on the south and east sides. The void at the bottom of the shape serves as the main entrance to the building. The postmodernist base contrasts with the building's shaft, a more modernist, even minimalist glass wall. The building's capital consists of a straight glass wall that is set back from the curved wall.
While the side facing the Chicago River is curved, the other sides of the building are flat, in order to adhere to the city's street grid. These sides also feature notches, which serve to create more corner offices that feature an abundance of windows. Such locations are much coveted throughout the city.
The building is 365 feet (111m) wide from one end of the curve to the other. It stands 487 feet (148 meters) tall.
Awards
In 1984, shortly after its completion, 333 Wacker Drive earned the Honor Award from the American Institute of Architects. The award launched the careers of the architects at Kohn Pedersen Fox, who've gone on to build such notable skyscrapers as the DZ Bank Headquarters in Frankfurt and the expansion of the Museum of Modern Art in New York City.
Additional awards for this skyscraper include the 1995 and 1997 Favorite Building award, presented by the readers of Chicago's largest newspaper, the Chicago Tribune.
333 Wacker Drive has also featured prominently in a handful of movies, including "The Truman Show", "Ferris Bueller's Day Off", and "Batman Begins".