Now one of Toronto's most desired neighborhoods, boasting beautiful Victorian houses, Cabbagetown boasts an interesting past and a vibrant present.
How'd it Get that Name?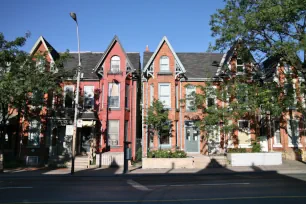 The area of Toronto bounded by Gerrard Street to the north, Queen Street to the south, Parliament Street to the west and the Don River to the east, was once one of the city's poorest neighborhoods, inhabited mostly by Irish and Macedonian immigrants who brought little with them when they came to Canada.
While there are a number of theories as to how Cabbagetown got its unusual name, most tell a story about these poor immigrants and how they could afford little to eat. Cabbage became one of the main staples of their diet. Some stories maintain that the residents of the neighborhood grew abundant heads of cabbage
in their front yards. Other versions of the story note that so much cabbage was cooked by these poor immigrants that the neighborhood reeked of the smell of this odiferous vegetable.
Life was difficult in this run-down neighborhood. As a matter of fact, Canadian writer Hugh Garner wrote a novel entitled "Cabbagetown", which was touted as the story of "the largest Anglo-Saxon slum in North America" and raised awareness of the plight of the immigrants in Canada.
Much of the original Cabbagetown, however, was demolished in the 1940s to make way for a new housing development called Regent Park. The area now known as Cabbagetown is north of the original neighborhood, and much of it bears little or no resemblance to the old Cabbagetown.
Today's Cabbagetown
The Cabbagetown of the 21st century is a beautiful neighborhood which holds the distinction as "the largest continuous area of preserved Victorian housing in North America".
Much neighborhood renovation began taking place here in the 1970s, when affluent Canadians began buying up dilapidated Victorians and fixing them up. The result was brightly painted homes, wrought-iron fences, and beautifully kept gardens throughout much of the area.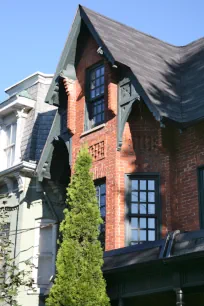 Cabbagetown seems to attract many Bohemian types; namely artists, folk musicians, and writers. Some are wealthy, but there are still a number of streets in Cabbagetown where the population is extremely poor. However, since 1988, the Cabbagetown Preservation has been working hard to preserve the cultural and historical integrity of the area by spending money to repair homes and buildings that need work.
The Cabbagetown Festival
The most notable event in Cabbagetown is the two-day Cabbagetown Festival, held each September. The festival includes an arts and crafts fair, gala parade, and the popular Cabbagetown Short Film & Video Festival, which profiles the best in videos under fifteen minutes long, submitted from budding filmmakers throughout the world.