The Miradouro de São Pedro de Alcântara is a belvedere in Lisbon with a beautiful garden, the Jardim António Nobre. From here you have fine views over large parts of Lisbon.
Belvedere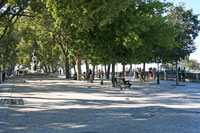 Miradouro de São Pedro
de Alcântara
Lisbon has quite a few romantic miradouros – belvederes or lookout points with a public terrace or garden – that offer wide views over the city.
The most popular is the Miradouro de Santa Luzia, but there are plenty of other interesting belvederes. One of the largest is the Miradouro de São Pedro de Alcântara, a garden miradouro located in the Bairro Alto. A funicular – the Elevador da Glória – connects the garden with the lower situated Restauradores Square.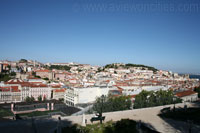 View from the Miradouro
From the miradouro you have excellent views over the area, including the Baixa district, the area around the Avenida da Liberdade and the Tagus river. You can see plenty of landmarks from here including the São Jorge Castle, the Graça church, the Sé cathedral and the spires of the São Vicente de Fora church. An azulejo panel near the balustrade illustrates all the points of interest that are visible from the miradouro.
The Garden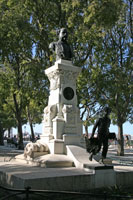 Eduardo Coelho
monument
The garden – known as the Jardim António Nobre or Jardim de São Pedro de Alcântara – was laid out in the nineteenth century. It is terraced and has two levels, of which the upper level is the most popular.
The lower level is divided into parterres and features lawn beds, benches and busts of mythological heroes and famous Portuguese figures. The upper level terrace has plenty of trees, benches, a romantic fountain and a monument dedicated to Eduardo Coelho, founder of a popular newspaper. The monument was erected in 1904 and shows the bust of the newspaper magnate with below him the statue of a newspaper delivery boy.
The garden is a popular meeting point and it can be especially crowded at dusk when the view from the miradouro is at its most beautiful.