The monastery of São Vicente de Fora (St. Vincent Outside the Walls) is one of the most important religious buildings in Lisbon. It was built in the early seventeenth century on a site overlooking the city's historic Alfama district.
History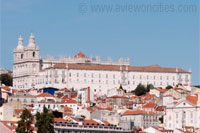 São Vicente de Fora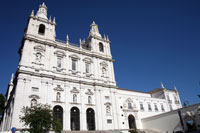 The church of
São Vicente de Fora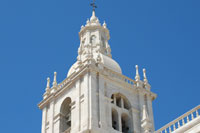 Bell Tower
In 1147, barely a month after capturing the city of Lisbon from the Moors, Afonso Henriques ordered the construction of an Augustinian monastery outside the city walls (fora). The church was dedicated to St. Vincent, patron saint of Lisbon, whose remains were transported here in 1173 from his burial place in Cape Vincent, south Portugal.
In 1582, when Portugal formed a union with Spain, the Spanish king Philip II decided to completely rebuild the monastery. He commissioned royal architect Juan Herrera – responsible for the Escorial near Madrid – and Italian architect Filippo Térzi with the construction of a new monastery. The church was completed first, in 1629, but it took until the eighteenth century before the whole monastery was completed.
The Church
The influence of the Italian Renaissance style is visible in the beautiful limestone facade of the São Vicente de Fora church. Seven niches hold statues of saints, including one of St. Vincent. The central section of the facade is topped of with an elegant balustrade and flanked by two bell towers.
The church has a Latin cross layout with a barrel-vaulted single nave. Most notable is the Baroque altarpiece, commissioned in the early eighteenth century by king John V. It was created by the Portuguese sculptor Joaquim Machado de Castro, with large wooden statues of angels and an altar covered by an enormous baldachin.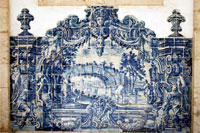 Azulejo
Like so many other buildings in Lisbon, the church was severely damaged by the earthquake of 1755, when the main roof and dome collapsed onto the worshippers.
The Cloisters
The highlight of the adjoining Augustine monastery are the cloisters, decorated with eighteenth-century blue-colored azulejos, ceramic tiles. The azulejo panels show historic scenes and fables of the famous French writer Jean de La Fontaine.
Pantheon
A corridor connects the church of São Vicente de Fora with the former refectory of the Augustinian monks.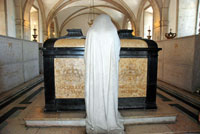 Pantheon
In 1885, after religious orders were banned from Portugal, the refectory became a pantheon for the Braganza family, the last monarchs to rule Portugal. Most of the Portuguese monarchs, starting in the sixteenth century with John V and ending with the last king of Portugal Manuel II, were buried here. The tombs of king Carlos and heir to the throne Luis Filipe, both tragically assassinated in 1908 at the Praça do Comércio, get special attention in the form of a female statue shown weeping over the tombs.