The Torre Vasco da Gama (Vasco da Gama Tower) was originally built in 1998 as a lookout tower for the World Expo held that same year in Lisbon. The tower was later expanded with a high-rise hotel building.
World Expo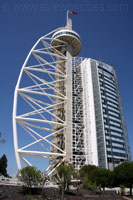 Vasco da Gama Tower
The Vasco da Gama Tower was built as one of many modern structures that were erected for the World Exposition of '98. It was designed by architects Leonor Janeiro, Nicholas Jacobs and the architectural firm of Skidmore, Owings and Merrill.
The tower was named after the famous Portuguese explorer Vasco da Gama, who exactly five hundred years earlier was the first to find a direct route over water to India. The exposition was held in celebration of that event.
The Tower
The tower was built with a concrete central core and a steel frame in the shape of a huge sail. The shape is a reference to the caravel ships that the Portuguese explorers used on their voyages during Portugal's golden Age of Discoveries in the fifteenth and early sixteenth centuries.
The central core represents the ship's mast and the turret near the top – which houses an observation deck and a panoramic restaurant – is meant to evoke the image of a crow's nest. At the base of the tower stood a four story structure representing the bow of the ship. This building was used as the pavilion of the European Union.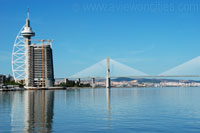 The tower and the
Vasco da Gama bridge
Including the spire on top of the observation deck, the tower rises to a height of 145 meters (476 ft), making it the tallest structure in Lisbon; only the pylons of the Vasco da Gama Bridge and 25th of April Bridge are taller.
Expansion
The observatory and restaurant closed in 2001 and in 2007 the base of the tower was demolished to make way for a 21-story luxury hotel designed by the Portuguese architect Nuno Leónidas. Construction of the new building started that same year and the hotel opened in early 2013. The observation deck is now once again accessible to the public.