The Ponte 25 de Abril (25th of April Bridge) is the oldest bridge across the Tagus river in Lisbon. The more than two km long suspension bridge opened in 1966 after almost four years of construction.
A Bridge across the Tagus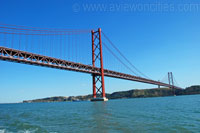 25th of April Bridge
Lisbon is located at the estuary of the Tagus, and the width of the river has always made it difficult to build a bridge across the river near the city center.
The idea to build a bridge was floated as early as in the nineteenth century, but the plans were never realized, and the only way to get from one side of the river to the other was by way of a ferry.
Construction
In the mid-twentieth century, the plan to build a bridge across the Tagus was picked up again. A committee decided the ideal location for the bridge was between Alcântara near downtown Lisbon and the suburb of Almada on the other side of the river.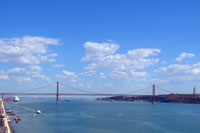 The bridge seen from Belém
Finally, in 1958 the government decided to go ahead with the plan and construction started in 1962. The bridge was inaugurated on August 6, 1966. It was named Ponte Salazar, after the dictator who at the time ruled over Portugal.
The Bridge
When it opened in 1966, the almost 2278-meter-long bridge (7473 ft.) with a main span of 1013 meters was one of the longest suspension bridges in Europe. The bridge deck, 70 meters above the water level, is suspended by cables that are supported by tall pylons that rise 190.5 meters (625 ft.) above the water. Its design was inspired by that of the famous Golden Gate Bridge in San Francisco, and it is even painted in the same color.
One of the
main pylons
The bridge originally had four car lanes, and at the time planners expected this to be more than sufficient for the next fifty years, but the dramatic rise of automobile traffic in the city soon caused long traffic jams.
In the 1990s, two car lanes were added to the upper deck and train tracks were built on the lower deck. Despite these expansions, the bridge is still regularly congested, even after the opening of the new Vasco da Gama Bridge in 1998.
The Name
In 1974 the peaceful Carnation Revolution brought an end to the authoritarian regime. After the revolution, many of the monuments in the city that referred to the regime were given a new name. The Ponte Salazar was renamed Ponte 25 de Abril or 25th of April Bridge to commemorate the start of the revolution on April 25, 1974.