The Vasco da Gama Bridge is a modern cable-stayed bridge that spans the estuary of the Tagus river. The 17 km (11mi) long bridge opened in 1998 and connects Lisbon's eastern districts with main highways across the river.

Crossing the Tagus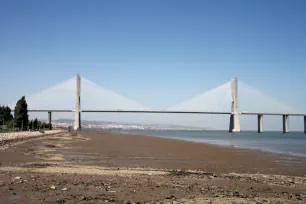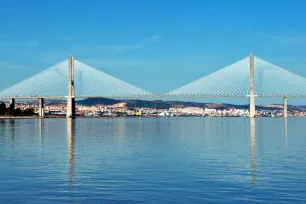 The estuary of the Tagus river separates Lisbon's historic center from its southernmost suburbs. At its widest point, the estuary is more than ten kilometers long, and for centuries the Tagus was a formidable obstacle for those who wanted to reach the river's left bank. Finally, in 1966, a 1013-meter-long (3323 ft) bridge was built to span the most narrow section of the estuary, connecting Lisbon with the suburb of Almada across the river.
A new Bridge
In the early 1990s, however, it became apparent that the bridge, known as the Ponte 25 de Abril, could not absorb the explosion of car traffic in Lisbon. The bridge had become a traffic bottleneck and a new bridge was needed.
Surprisingly, planners did not go for the easy option to simply build another bridge across the narrow section of the Tagus river. Instead, they opted for a route through the east part of Lisbon, near the future site of the world exposition of 1998, where the Tagus river is at its widest. The decision was widely contested, as it would hardly relieve traffic congestion for the many commuters who lived in the southern suburbs. Protests intensified when the government raised the tolls on the existing bridge to pay for the new one.
Vasco da Gama Bridge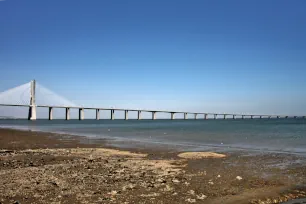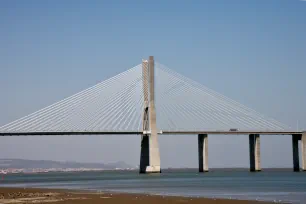 Despite the protests, the government decided to build the bridge as planned and construction started in 1995. The massive project, undertaken by an international consortium, was completed just eighteen months later.
The bridge was inaugurated in March 1998, just in time for the opening of the World Expo of 1998 which celebrated the five hundred year anniversary of Vasco da Gama's discovery of a direct trade route to India. The bridge was named Ponte Vasco da Gama in honor of Portugal's most famous explorer.
An impressive structure
The Vasco da Gama bridge was designed by Armando Rito Engineering, a company specialized in the design of large-scale bridges and viaducts. They created a six-lane cable-stayed bridge measuring 30 meters wide and 17,185 meters long (almost 11 miles) of which 11 kilometers over water.
The bridge runs just north of the Nations' Park and spans the Tagus river at its widest part where it is known as the Mar de Palha (Sea of Straw). The bridge's main span, 45 meters (148 ft) above sea level, measures 420 meters long. The deck is suspended by cables to 150 meter (492 ft) tall pylons.